Best of… Campus Desserts
Hang on for a minute...we're trying to find some more stories you might like.
Dessert—one of the only meals that tastes good basically all the time, consistently reminding us of happy times and making our stomachs smile as we bite into its sweet goodness. In times of stress, celebration or simply an unwavering sweet tooth, many of us turn to dessert, and sometimes binging on oreos or Leutner Commons cookies just will not cut it. In these desperate times, head to one the four places below, and I promise your sweet tooth will be more than satisfied. Each place is situated right next campus, so no transportation other than your feet is necessary to answer any hankering for dessert.
Simply Greek, to the right of  Mitchell's Ice Cream in Uptown Alley, may be known for their gyros but they make a mean baklava that offers a nice break from the typical ice cream and cookie dessert that many of us rely on. Atop a base of pastry sits a nutty filling that is balanced with oozing amounts of honey and finished off with more thin crispy pastry and honey. Almost too dense and slick with syrup to eat with just a fork, their baklava is best grabbed by hand so you can taste all the layers cohesively and lick the sweet honey off your fingers when you're done. Simply Greek has two sizes, a half, triangular slice for $4 and a full square for $8, and both come ready to eat in a plastic container. Super rich and super good, the baklava is worth every penny, so when the line at Mitchell's Ice Cream is too long or it's cold out, head to Simply Greek for an incomparable taste of sweet Greek tradition. simplygreekfood.com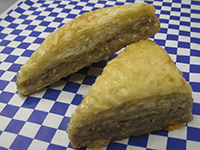 Sitting between a parking lot and Piccadilly Artisan Creamery in Uptown, Coquette Patisserie is a quaint yet modern French pastry shop with a multitude of unique handcrafted macarons. Each macaron is vibrantly colored and stacked neatly in an adorable pastry case for a look that is—almost—too pretty to eat. With rich smooth cream fillings sandwiched by two subtly flavored and airy cookies, Coquette's macarons are aesthetically appealing as well delicious. They offer distinct new flavors each week that range from peaches and cream to Guinness float to Amaretto, so expect a new experience with each visit. Although a macaron may not seem like the dessert to turn to on a night of studying, Coquette has a sophisticated atmosphere and macarons that will give your taste buds a nice departure from the processed overly sweet desserts they are used to. Each macaron runs at $2.25, so I would recommend going with some friends, buying a few and then splitting them up so you can try as many as possible without breaking your budget or your stomach. coquettepatisserie.com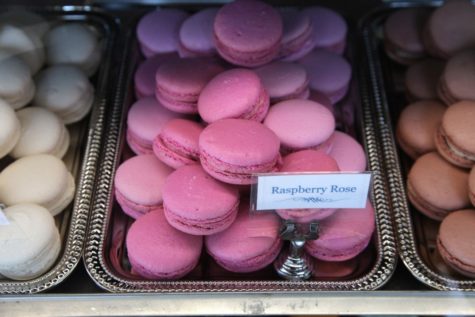 No list of desserts would be complete without the universally adored Mitchell's Ice Cream,. Although this is an obvious pick I could not bring myself to write on dessert without its inclusion. Rich, creamy and fresh, Mitchell's truly has the best ice cream I have ever tried but enough flavors to keep it interesting. Next time you go, try to mix up the typical cup of ice cream with one of their thick milkshakes, or try their surprisingly good vegan ice cream. At only $3.50 for a heaping scoop or $3.85 for a taster's duo (two flavors in one cup) Mitchell's is reliably delicious and cheap no matter the season. mitchellshomemade.com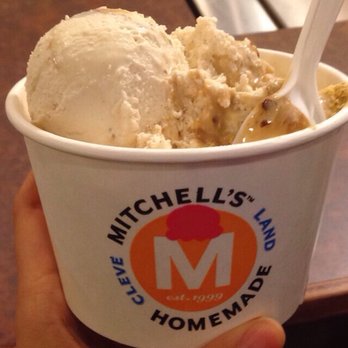 If you are in the mood for cookies, or baked goods in general, head to Corbo's Bakery in Little Italy. A Mayfield staple for over 50 years, they have traditional Italian cookies, cakes, cannolis and gelato. When you first walk into Corbo's the amount of baked goods in the slightly messy shop can be overwhelming, but you can buy the bite size cookies and bars by the pound. For a more filling dessert look to their acclaimed cassata cake, a moist spongy cake filled with fresh strawberries, thick vanilla custard and generously topped with airy sweet whipped cream. Small and easily packed, I recommend buying a nice big box of their cookies to snack on while studying or for a late night cure to a strong sweet tooth. corbosbakery.net