First semester sports highlights
Hang on for a minute...we're trying to find some more stories you might like.
With the semester coming to a close, The Observer looks back on Case Western Reserve University's athletic achievements. While some teams just began their seasons a few weeks ago, others wrapped up memorable campaigns. Below are the most memorable moments from each varsity team this semester. Look for some of these teams to create even better moments in the spring.
Sept. 23: Men's soccer defeats then-No. 4 Lycoming 
A single goal in the middle of the first half was enough for the Spartans to defeat a second top five team in two seasons. Second-year returning midfielder Marques Manta connected with second-year returning midfielder Zachary Senft on a deep pass on the right side of the box. After a few moves to corral the ball, Senft shot the ball away from the Lycoming College keeper and into the net. Senft finished the year tied for the team lead with six goals, as the Spartans finished the year 7-9-2. Fourth-year veteran goalkeeper Calvin Boyle earned All-Great Lakes Region Third Team honors after compiling 82 saves, including six against Lycoming, and three shutouts.
Sept. 30: Volleyball upsets top ranked rival 
CWRU delivered archrival Carnegie Mellon University (CMU) its first loss of the season in the first round robin of University Athletic Association (UAA) play. It took four sets for the Spartans to dispatch the Tartans, winning 26-24, 25-19, 11-25 and 25-16. Second-year returning setter Faith Ellis recorded 51 assists and 23 digs, and second-year returning outside hitters Brianna Lemon and Karley King combined for 30 kills in the match. The Spartans ended the year with a 19-12 record and a fifth place finish in the UAA. The team is losing just one player, fourth-year veteran middle hitter Emma Briggs, to graduation following the season.
Oct. 14: Women's cross country secures top finishes at Yellowjacket Invite (Photo By: Courtesy of CWRU Athletics)
The Spartans took second place at the meet when three runners finished in the top 10, and five runners finished in the top 13. Fourth-year veteran runner Danielle Kulpins, a NCAA All-Region honoree at season's end, paced CWRU with a fourth place finish in the six kilometer race. Second-year student Madeline Lindemann crossed the finish line seventh and third-year veteran runner Jennifer Hoffmann was just two spots behind. The Spartans ended the year with an eighth place finish in the Great Lakes Region (out of 35 teams) and a seventh place finish in the UAA.   
Oct. 29: Women's soccer wins first conference game in three years 
Four different Spartans each scored a goal and CWRU secured its first UAA victory in over 1,100 days when the team defeated Emory University 5-2. Fourth-year veteran forward Elle Zadina started the scoring in the eighth minute, third-year veteran forward Melanie Kukura added goals in the 21st and 86th minutes and third-year veteran midfielders Angelina Batty and Emily Dickens scored the Spartans' other two goals. CWRU ended the year with a 7-11-0 overall record. Zadina led the team with eight goals during the season on her way to All-UAA Second Team honors. Also earning all conference honors were fourth-year veteran defender Neha Cheemalavagu (First Team) and second-year returning forward Kimberly Chen (Second Team).
Nov. 11: Football finishes regular season with a crazy victory 
With the team down to its final seconds of the season, fifth-year veteran linebacker Zach Lyon blocked a CMU punt that third-year veteran wide receiver Justin Phan returned for a touchdown to give the Spartans the lead. After pulling the victory out in overtime to seal a perfect 10-0 regular season, CWRU advanced to the NCAA playoffs for the fourth time in school history. Facing Illinois Wesleyan University in freezing rain and snow, the team won just its second ever playoff game 28-0. The season ended the next week when the University of Mount Union defeated CWRU 45-16 in the second round.
Nov. 18: Merriman places 11th at national meet 
In his final 8,000 meter collegiate race, fourth-year veteran runner Sam Merriman achieved a personal best time of 24:37.00 to finish as the 11th best runner in Division III. He earned his second career All-America honors for the high finish. It was the third straight season Merriman competed in the national championship race, with finishes of 21st (2016) and 167th (2015). He led the team to a seventh place finish in the Great Lakes Regionals and UAA. Fourth-year veteran runners Aidan DeSanto and Zach Roshon were also team leaders throughout the season. Both placed in the top 50 in the conference and in the top 55 in the region.
Nov. 25: Duckett leads team to first win 
Behind a 34-point, 12-rebound performance from fourth-year veteran forward T.J. Duckett, the men's basketball team secured a 74-69 win over Mount St. Joseph University, its first of the season. Second-year returning guard Sam Hansen contributed 17 points and four rebounds and second-year returning forward Michael Hollis led the team with five assists. As of press time, the team has a 3-4 record. The Spartans' next home game will be against Alfred University in the Bill Sudeck Holiday Tournament on Dec. 29. UAA play begins with a visit from CMU on Saturday, Jan. 6.
Nov. 30: Swimmers break records, secure cut times in Wooster 
For the eighth straight season, the men's swimming and diving team won the Wooster Invitational, and for the third straight season, the women's team was also victorious. Third-year veteran swimmer Suhan Mestha notched three "B" cut times during meet—one each in the 50 Free, 100 Back and 200 Back. First-year rookie swimmer Caitlyn VonFeldt beat the cut time twice in the 100 Back, once as part of a school-record setting 400 yard medley relay team. Mestha's time in the 100 Back and 200 Back bested her own school records, and the 200 yard medley and 400 yard freestyle women's relay teams also broke school records. In the men's 200 IM, fourth-year veteran swimmer Drew Hamilton set a new record with a time of 1:53.73. The teams return to action on Saturday, Jan. 20 when they host State University of New York at Geneseo.
Dec. 2: Women's basketball dominates Wooster 
Four Spartans scored at least 10 points in the team's 86-54 home victory over the College of Wooster. First-year rookie guard Emily Todd led the team with 19 points, including five 3-pointers, second-year returning guard Kendall McConico contributed 14 points and third-year veteran guard and forward Hillary Hellmann and first-year rookie forward Megan Shanosky each added 10 points. The Spartans are 3-3 on the season. The team's next home game will be on Saturday, Jan. 6 against UAA rival CMU. Over winter break, CWRU will travel to Westerville, Ohio to take part in the Smokey Ballenger Classic.  
Dec. 2: Wrestling competes at RIT Invite 
With 44.5 points from eight different wrestlers, CWRU placed ninth in its first invitational action of the season. Fifth-year veteran wrestler Nate Lewis led the team with 14 points from three pins and a major decision. He finished the day 5-1 in the heavyweight class. Second-year student Alec Hoover defeated three opponents at 125 pounds, including two by pin, to add 10 points to the Spartans total. First-year rookie wrestler Michael Hughes and second-year student Jacob Frisch both pinned opponents as well. Hughes contributed eight points from the 197 pound bracket and Frisch added nine points at 133. The team will travel to Waynesburg University for their next competition on Jan. 6.
About the Writer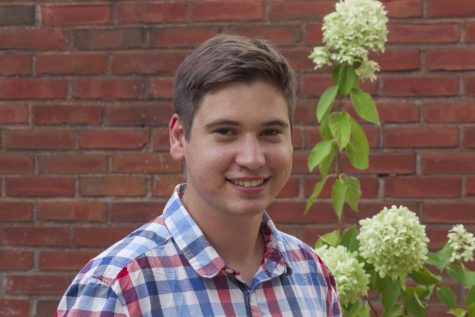 Eddie Kerekes, Executive Editor
Eddie Kerekes is in his fourth year studying chemical engineering while also pursuing a minor in German. He serves as the executive editor. Previous roles...