Fixing the new NBA All-Star Game
Hang on for a minute...we're trying to find some more stories you might like.
Staff writer Ben Resnick made a couple of interesting points about the NBA All-Star Game in last week's issue. However, he left a few topics undiscussed that The Observer's sports reporters could address.
The NBA All-Star Game is Sunday, Feb. 18. All-Stars were announced on January 18. LeBron James and Stephen Curry, the team captains, selected their rosters before Thursday, Jan. 25 when the league announced the selections. The following discussion took place from January 19-22 and is lighted edited.
Eddie Kerekes, Director of Web & Multimedia: What do you guys think of the new format? Who should James and Curry pick on their teams? Was a change even needed in the first place?
Andrew Ford, Staff Reporter: All-Star games in any sport are tricky because the league wants the game to be entertaining, but the players typically don't want to give any effort. Rightly so, since (at least in the NBA) All-Star Weekend is designed as a break from the long grind of an 82-game season. Everyone agrees that the All-Star Game has been severely lacking in the entertainment department in recent years, so I do think that this new draft will at least provide some drama even if the actual game doesn't change. Is James going to draft Kyrie Irving or any Golden State Warriors players? What if DeMarcus Cousins and Anthony Davis are on opposing teams? The possible scenarios do bring some intrigue to the game, but I doubt the competitiveness will improve at all.

Niko Kamlet, Staff Reporter: So what you need to do is change the game. If you want an example, look no further than the NHL. The All-Star Game was becoming old and boring so they changed it up and went to the much more exciting 3-on-3 format with four teams battling it out for a cash prize. It rejuvenated both the fans and the players, making the game all the more exciting. The NBA should follow suit and change the format to a 3-on-3, as well. It could spice things up a bit.
Jacob Rayyan, Columnist: I agree with Andrew. It sparks another conversation piece and will bring some pretty cool All-Star Game highlights that we would otherwise never see, like James and Western All-Stars playing together. A Kevin Durant to James alley-oop would be all I really need to see to want to keep the change. That being said, I don't think the actual game will change all that much, which is fine for me personally. Unlike the AFC-NFC Pro Bowl, the NBA stars at least attempt to keep the game close and in years past actually did ramp up the defensive effort towards the end to pull out the win.
Ford: I think what Niko suggested would be interesting, for the NBA to go to a 3-on-3 format. It is in the Olympics now and the BIG3 league has seen some early success. 24 players make the All-Star Game, so you could do eight teams of three and have a tournament. This would be an interesting experiment, but I doubt the NBA would ever consider it. Yet it would be reminiscent of the old video game NBA Jam.
Sanjay Annigeri, Staff Reporter: The 3-on-3 basketball is an interesting proposition as it would be fun to see NBA All-Stars play a sort of pick-up street basketball game. I like the NBA's move this season to allow for players to form their own teams, as it creates a connection to the viewer in terms of it being like street basketball. This also would have prevented the dreaded East vs. West matchup that it has been in recent years, as talent has mostly moved to the West. The West would have been able to create two full All-Star teams while the East would struggle to piece together one. An interesting aspect of this year's game is the players available to be drafted by both sides. Will James pick Irving? Will Curry form an all-Warriors All-Star lineup? In my opinion, I believe that James should pick Giannis Antetokounmpo with the first pick and Curry should pick Kevin Durant,  as these two are the best versatile forwards in the league right now.
About the Writer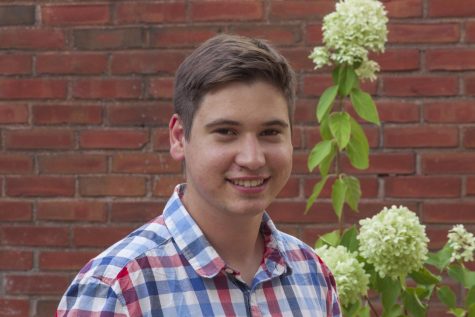 Eddie Kerekes, Executive Editor
Eddie Kerekes is in his fourth year studying chemical engineering while also pursuing a minor in German. He serves as the executive editor. Previous roles...