Jessie Sabers kicks into high gear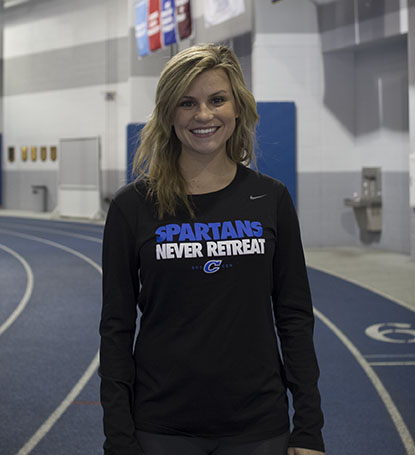 Hang on for a minute...we're trying to find some more stories you might like.
The women's soccer team was led in part by junior forward Jessie Sabers this season. As one of the Spartan's top offensive tools, Sabers scored seven goals with two assists this season. However, the team struggled, dropping many extremely close games. "This season was pretty different because I think that our record of 8-9-2 certainly did not reflect how we played," Sabers said, "I'm not sure why but this year we didn't have the best of luck with our results, but we were competitive against every team we played."
Jessie stepped up as to help the team who struggled offensively at times. She took on a big role since the Spartans lacked many true offensive players. She was recognized for her role, being given an honorable mention to the UAA All-Conference team. Sabers found herself in front of the net many times over the season, both with goals and assists. "I had a bigger role this year in creating opportunities in the offense and also finishing any chances in front of the net. For some reason I am pretty scrappy and good at finishing the ball in front of the net," Sabers said, "When I was further away from the goal I looked more to create opportunities for other players."
Sabers' pre-game routine is a big part of getting ready to perform at a high level. Before every game, the team usually has a carb loaded pre-game meal together three hours before the game, followed by watching the men's team play until halftime. After that, Sabers begins by getting her ankles and toes taped, due to previous injuries. It is the following team bonding which gets Sabers ready for the game. "We all return to the locker room, blast music and mess around while we get ready," said Sabers, "We also always write initials on our wrist of someone that we want to play for and I always write my parents' initials since they are my biggest supporters and love to watch me play."
Her favorite games this season were the Aug. 30 game against Transylvania and the Oct. 26 game against Denison. Both games were strong wins for the Spartans as they battled back from deficits in both games. "It was so fun to battle against Dension for the full 90 minutes and then have all your hard work pay off in the end.  Plus winning in the last three minutes is exciting as it is," said Sabers.
When not playing soccer, Sabers is studying to be a biochemistry major. She and the Spartans were recognized for their dedication to academics with a NSCAA Team Academic Award. While the balancing soccer and school can be difficult Sabers points to her work ethic for her success on and off the field. "I really just manage my time well to get all of my studying done," Sabers said, "There are also plenty of late nights spent studying and getting homework done without a lot of free time.  It is definitely difficult but can be managed."
Looking forward to next year, Sabers plans to work on finding the back of the net more.  She wants to work both on further out and having more shots from within the 18.  She is also going to work on receiving the ball with her back to goal and making the turn. In addition to her personal goals, Sabers has high hopes for next year's season. With an experienced returning core, the team is ready to finish and win the close games which remained out of reach this past year. "I am so excited from next season," Sabers said, "I think we are going to be a great team and start to win games instead of just competing.  With only three seniors graduating this season, we were a younger team that had many of the underclassman starting or even playing many minutes.  I think that with all these players more developed and use to the college game, we will come out of preseason as a strong and more experienced team.  I think a lot of players including myself have grown this season and will contribute even more on the field next year."