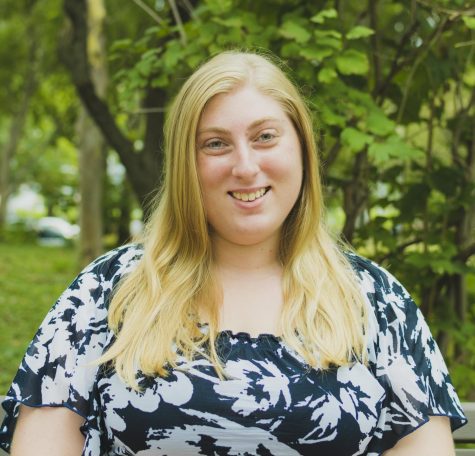 Sarah is a second-year at Case Western Reserve University and has been the social media editor and a reporter for The Observer since last fall. She is triple majoring in theater (acting), English and cognitive science.
Sarah enjoys dancing, acting, singing, writing, orientation-leading, photoshopping funny things for PR purposes, doing research with humans, laughing at pettiness on social media, creating edible things she can consume and doing way too much.
If you would like to contact Sarah, her email is sxp730@case.edu. She loves getting emails and talking to people, so hit her up!
Sarah Parr, Social Media Editor
Mar 30, 2018

Playlist of the Week Mar 30 – Apr 5

(Story)

Feb 23, 2018

Listen to music in Uptown

(Story)

Feb 02, 2018

Catch a movie this weekend

(Story)

Jan 26, 2018
Jan 19, 2018

Relax after the first week of classes

(Story)

Dec 07, 2017

Check out concerts over the weekend

(Story)

Dec 07, 2017

Holiday Playlist of the Week

(Story)

Nov 30, 2017

Listen to music across campus

(Story)

Nov 17, 2017

Enjoy diverse music on campus

(Story)

Nov 09, 2017

Attend a cultural event or a performance

(Story)

Nov 02, 2017

Have fun off campus this weekend

(Story)

Oct 27, 2017

Enjoy a spooky Halloween weekend

(Story)

Oct 13, 2017

Check out dinners, concerts for a study break

(Story)

Oct 13, 2017

Remembering the "memorial rock"

(Story)

Oct 06, 2017

Celebrate CWRU homecoming weekend

(Story)

Sep 29, 2017

Begin fall with on-campus shows and the Farm Harvest Festival

(Story)

Sep 22, 2017

Here's what to do this weekend at CWRU and in Cleveland

(Story)

Sep 08, 2017

Head back to UPBeats this weekend

(Story)

Sep 01, 2017

Unwind from the first week with free food and fun

(Story)

Aug 25, 2017

Last call for fun before classes begin

(Story)

Aug 25, 2017

Parr: Theater is not "on demand"

(Story)

Aug 11, 2017

See a concert or join a late night bike ride this weekend

(Story)

Aug 05, 2017

Spend the weekend celebrating the waterfront

(Story)

Jul 30, 2017

Check out the outdoor market or indoor library conference this weekend

(Story)

Jul 22, 2017

For those on campus this summer: Here's what to do this weekend

(Story)

Apr 14, 2017

IMPROVment's 6th Annual Lake Effect

(Story)

Apr 14, 2017

Parr: The pressure of overloading on extracurriculars

(Story)

Apr 10, 2017

Sparknews' Impact Journalism Day event

(Story)

Feb 03, 2017

MLK celebration inspires "hope and solidarity"

(Story)

Jan 20, 2017

2017 #ObserverWinterBreak Photo Contest Winners

(Story)

Jan 20, 2017

"Peter and the Starcatcher" caught Cleveland's attention

(Story)

Jan 20, 2017

Clybourne Park Visited Cleveland

(Story)

Nov 11, 2016

Parr: The curious case of our campus's beauty, part II

(Story)

Nov 11, 2016

Community of words

(Story)

Nov 04, 2016

A Smashing Success

(Story)

Nov 04, 2016

Spotlight on UPB: from "Spot Night" to "UPBeats"

(Story)

Oct 28, 2016

SPARC [conversations] sparks speeches of minority experience in STEM

(Story)

Oct 28, 2016

Footlighters recreates "Heathers: The Musical"

(Story)

Oct 14, 2016

Prospective students audition for full theater scholarships

(Story)

Oct 07, 2016

The election is "entertainment"

(Story)

Sep 30, 2016

Spartans for Hillary members champion campus voter registration

(Story)

Sep 23, 2016

Lacrosse Club hosts youth clinic

(Story)

Sep 23, 2016

Parr: Five reasons why dining halls rock

(Story)

Sep 16, 2016

Parr: The perks of being a non-STEM major

(Story)

Sep 09, 2016

Improve your Saturday nights with IMPROVment

(Story)