UPB volleyball tournament lights up the night
Hang on for a minute...we're trying to find some more stories you might like.
Booming house music, glow sticks everywhere, large black lights illuminating the room and throngs of sweaty college students. Is that a description of the hottest new club in Cleveland? On the campus of Case Western Reserve University, the event was tame in reality.
University Programming Board (UPB) hosted the blacklight volleyball event in Adelbert Gym on Saturday, Feb. 18. The event consisted of teams of six students competing in a tournament. The lights in the gym were completely shut off, and, as the name suggests, only black lights were used as a light source for the players and referees. However, the volleyballs glowed in the dark, as did the tape boundaries.
The lack of light wasn't the only thing that made the event different. According to UPB co-chair of the New Member Program Jason Harnack, new UPB members ran the majority of the event.
"They did a lot of the work, a lot of the leg work [and] a lot of the planning," he said.
For the most part, the action was very similar to volleyball with regular lighting. There was serving, setting, bumping and blocking. One key difference, however, was the difficulty in communication.
"Communication is definitely a little more difficult," said fourth-year student Nick Hazen.
"The music's going, it's dark, you can't really see anything, you can't really hear anything, so you just have to flow with it, see how it goes," elaborated second-year student Paul Jokinen.
Rallies ended when no players attacked a ball, assuming another teammate would return it. At other times, the reverse occurred, when multiple teammates went after the ball at once. Though these type of miscues normally happen in volleyball matches, they were quite a bit more frequent during the event.
Second-year student Seth Jaffe suggested teams could switch "from a verbal style to a physical style" to combat the problems, moving his arms up and down to exemplify the adapted communication style. UPB provided white t-shirts, glow in the dark headbands and glow sticks to increase visibility of other players. With the vast majority of students wearing the items, Jaffe's physical communication was made easier.
Reasons for participating in the unusual event varied from student to student. Hazen suggested it to his power volleyball physical education class and twelve of his classmates signed up. Since they were already used to playing together, the team felt it had a better shot at winning the tournament.
What they perhaps didn't realize was that there were going to be students with much more experience on the other side of the net. For instance, first-year students Alan Waterhouse and Danielle Moran, as well as most of their team, are members of the Case Volleyball Club. A higher skill level gave waterhouse confidence that his team was going to vanquish the competition.
"We're here to win. We don't mess around," he said, joking.
Both club and recreation players signed up because they believed the event would be a fun way to spend a Saturday night. Moran said that it was "a fun bonding" activity for the members of the club. She also added that they came to the event because they "really, really like volleyball" and jokingly said that "making it blacklight is every volleyball player's dream."
With a high student turnout, Harnack considered the event a success. He said, "I think it was an extreme success .… They worked really, really hard on the event. I'm extremely proud of what they were able to accomplish .… Overall we got really good feedback."
UPB usually sponsors one or two sport-related events per year, like last spring's bubble soccer tournament. Harnack even compared blacklight volleyball to that event. The unusual events normally draw large crowds looking for something different to do on the weekend.
Next years event may be one where the lights need to be turned on.
About the Writer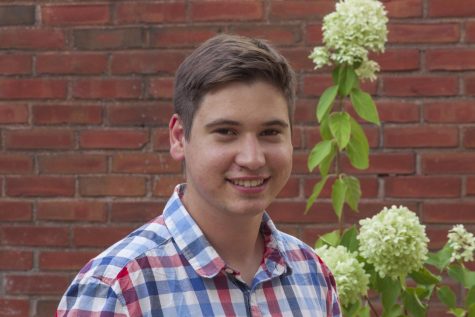 Eddie Kerekes, Executive Editor
Eddie Kerekes is in his fourth year studying chemical engineering while also pursuing a minor in German. He serves as the executive editor. Previous roles...