Upset city
Volleyball knocks off No. 10 CMU
Hang on for a minute...we're trying to find some more stories you might like.
"Siri, who owns the Carnegie Mellon University Tartans?"
The answer should be, "The Case Western Reserve University Spartans," after the volleyball team upset the No. 10 team in the nation on Sep. 30.
In the opening round of University Athletic Association (UAA) play, CWRU won two of three matches, including the spectacular performance over previously unbeaten Carnegie Mellon. Later in the day the Spartans dropped a tightly contested match against Washington University in St. Louis (WashU) in four sets, but recovered nicely with another win on Oct. 1 over New York University (NYU).
Head Coach Karen Farrell was enthusiastic about the first day of play.
"It all came together for us," she said. As she spoke a smile from ear to ear appeared on her face and you could hear the pure joy in her voice.
The team felt confident going into the day even though they faced two top 25 opponents.
"We went in with the mentality, 'Alright, well after this [Carnegie Mellon is] going to be 16-1,'" said fourth-year captain Emma Briggs.  
The victory over Carnegie Mellon was also the first game in a new, shorter rotation for the team that cut down to one setter and enabled Farrell to have more flexibility for substitutions in the middle of each game (in volleyball the number of substitutions is limited per set). Second-year setter Faith Ellis played the entire match and recorded 51 assists and 23 digs, both team highs.
While Ellis' play in particular was fantastic, Farrell praised the entire team.
"Our attack was lights out and we were earning all our points … Our serve-receive was really solid. Our defense was really good … It was just really incredible for us to see what we're actually capable of."
A few hours later the team had to recuperate from the high of victory and face another stiff team in WashU. Although the result was not the same, the effort and ability did not diminish.
"Even though we didn't win, that's the best I've seen us play against WashU," said the experienced Briggs.
First-year middle hitter Katie Kaminski had a team leading 15 kills followed by second-year outside hitter Brianna Lemon with 11. Third-year libero Karina Bondelid contributed 16 digs.
As if things couldn't get any more challenging, the team had to wake up for a 10 a.m. start time against NYU, but once again came out on top in a four set win. Second-year middle hitter Haley Sims recorded 13 kills in the match, on top of playing tremendously all weekend. On the outside, second-year hitter Karley King managed nine kills on a .333 kill percentage.
"It was really hard to get us energized," admitted Farrell, but "we really hit our stride in set two."
The team ultimately won after dropping the third set.
The week started with the team's first five set win of the season over Oberlin College on Sept. 27. After dropping two of the first three sets, Farrell decided to make the change to the new rotation, and the team went on to squeak out a win on the road. This marked another the obstacle the team has taken down: It was their first weekday win of the season. Sims and Ellis led the charge with 13 kills and 24 assists, respectively.
Briggs stated that "season growth" has been a key factor in the Spartans' improved play against the better teams they have seen lately. Watching the team from early in the season, it's evident that their confidence has seen a major increase. The talent was always there, but now that talent is clicking. If they stay on this path, the Spartans will compete with every team left on their schedule.
After this weekend the Spartans sit in a good position at a 2-1 record in conference and 13-7 overall.
The team gets a much needed break with their next contest not coming until the next round of UAA action begins on Oct. 14 at the University of Chicago.
About the Writer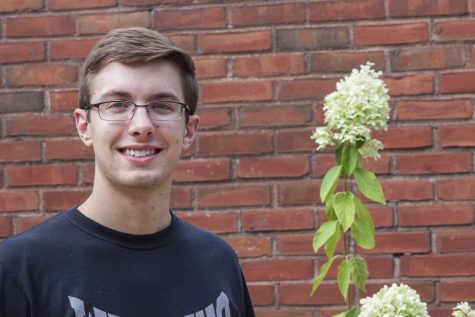 Andrew Ford, Sports Editor
Andrew is a second-year student majoring in political science and economics. As is easily inferred, he enjoys sports, politics and money. In his free time, he consistently beats his best friend at Madden and throws movie nights for his friends on what they describe as his giant TV. If he isn't doing that, then he's probably giving a tour for the university or avoiding human interaction in his room. Andrew is also a member of Phi Alpha Delta, a professional pre-law fraternity. He has yet to find anyone at this institution who has heard of his hometown of Urbana, Ohio. If you have heard of this town, live there, or want to debate sports or politics, his email is arf76@case.edu.