Vibrators may cause hysterical laughter
"In The Next Room (Or The Vibrator Play)" at Eldred Theater
Hang on for a minute...we're trying to find some more stories you might like.
For two weekends during November, the Case Western Reserve University Department of Theater put on the Tony-nominated show "In The Next Room (Or The Vibrator Play)" by Sarah Ruhl. The play ran from from Nov. 10-12 and Nov. 17-19, giving audiences six opportunities to see how there was no concept of female sexuality during the Victorian era.
The play showcases the lack of this concept in a very humorous way, as the audience watches Dr. Givings (Matthew Thompson) place the vibrator in the patient's crotch or behind while unenthusiastically timing how long it takes it takes for the patient to orgasm (however, the doctor is unaware that the patient is experiencing sexual pleasure). He only expresses emotion when he becomes frustrated that the "procedure" has taken over three minutes. As crazy as it sounds, according to the play, the vibrator was used to treat hysteria because doctors believed hysteria was caused by an excess of fluid in the womb and that orgasms were just releases of excess fluid.
Two of the sexually frustrated women in the show are Sabrina Daldry (Evan Adeen), a patient, and Catherine Givings (Paige Yepko), the doctor's wife. Mrs. Daldry is being treated for hysteria, and begins to feel better with her treatment via vibrator. Adeen really shined in this role, as she conveyed a shy character who learns to seek sexual pleasure, even asking for it by the hands of the doctor's assistant.
Mrs. Givings does not suffer from hysteria, but she does long for attention from her husband. Yepko was brilliant, as she portrayed Mrs. Givings' hopes and sorrows so well that the audience very much empathized with her. This was complimented by Thompson's Dr. Givings, who was fascinated only with science and going to the club, and not at all with doing anything with his wife. Together, Yepko and Thompson showcased the tension within the Givings marriage due to Dr. Givings' lack of interest in sexual relations and lack of attention to female sexual pleasure.
Although much of the play is humorous, it also brought up important ideas, such as the tension in the Givings' marriage and the reasons for it. It takes the entire show to resolve this tension, which is a reminder that it is possible to work things out, but it takes time. The show also deals with technological advances and how these advances affect the lives of the characters. In an increasingly connected and online world, it's important to see how technology impacts our lives.
Overall, this production was wonderful; it was humorous but it also brought up important concepts. It also taught the audience a little bit about the history of the vibrator, which is certainly an interesting topic. And, of course, it set a hopeful tone for the rest of this school year's plays at Eldred Theater.
Next semester the CWRU Department of Theater will be producing "Uncle Vanya" by Anton Chekov and "Urinetown" by Mark Hollmann and Greg Kotis.
Play: "In The Next Room (Or The Vibrator Play)"
Director: David Vegh
Dates: Nov. 10-12; Nov. 17-19
Rating: 5/5 stars
About the Writer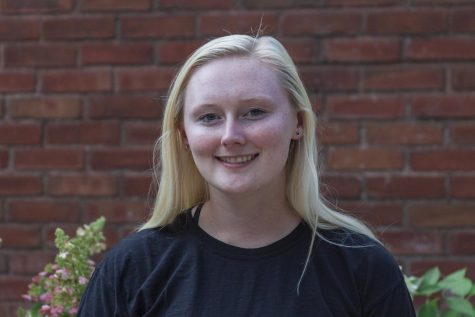 Mary McPheeters, Copy Editor
Mary is a third-year mathematics major with minors in studio art and computer science. If they're not copy editing or writing for the Arts & Entertainment section, you can usually find them wandering around the Cleveland Museum of Art. They also enjoy hiking, camping and watching Netflix or Hulu. Their favorite show on Netflix is "Dark" and their favorite show on Hulu is "Brooklyn Nine-Nine." If you ever want to talk about TV shows or anything else, you can reach them at mem272@case.edu.