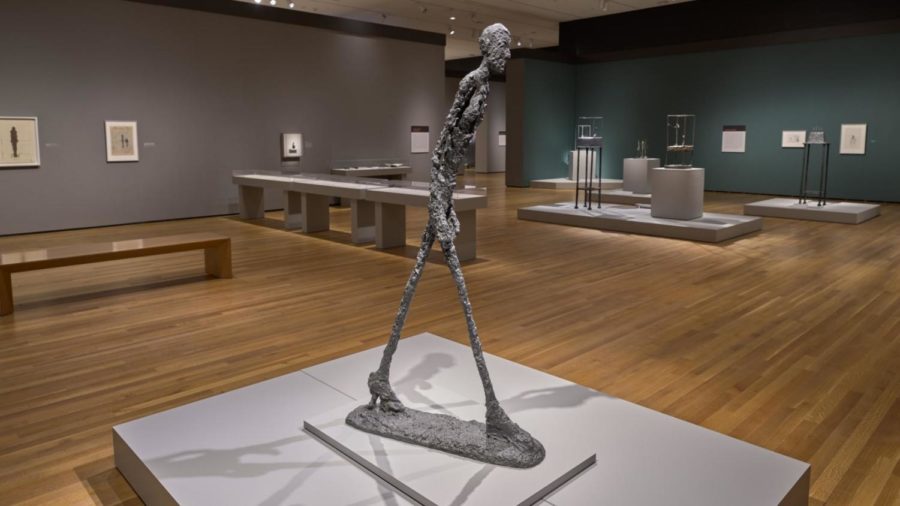 Courtesy of ClevelandArt.org
Alberto Giacometti's haunting sculptures of gnarled human forms, as thin and twisted as branches stripped bare by cold autumn winds, have earned him a significant standing in the canon of mid-20th century design. The Cleveland Museum of Art's special exhibit, "Alberto Giacometti: Toward the Ultimate Figure," sheds new light onto the complex and varied nature of his creative voice.  
Encouraged by the work of his father, post-impressionist painter Giovanni Giacometti, Alberto Giacometti began his career at a young age, sinking his teeth into 
plasticine and watercolors. His early pieces litter the CMA's exhibition space, juxtaposed with later pieces in a manner that begs the viewer to observe the patterns and organic changes in his style over time. After moving to Paris in 1922, Giacometti immersed himself in surrealism, spending hours crafting depictions in ink and clay of his friends, lovers and people he claimed to have met in dreams.   
The desire to draw and sculpt consumed Giacometti. The countless sketches executed on scrap paper, hotel stationery and spare newspapers that line the gallery walls reveal snippets of his ever-churning mind. His fascination with illustrating human heads led him to experiment with the physicality of facial features—soon chins became longer, skulls more narrow and eyes even more blankly fixed. Sculpted studies of Diego, his younger brother, appear throughout the exhibit, his identity distinctly betrayed by his slightly uneven ears despite Giacometti's style warping the nature of his face beyond recognition.
As the exhibit progresses through Giacometti's artistic evolution, his manifold works are balanced out by black-and-white photographs of the artist himself. Giacometti took great pride in his minuscule Parisian studio, which measured only 23 square meters. He invited the greatest photographers of the era to capture him at work. Portraits by the likes of Henri Cartier-Bresson, Inge Morath and Man Ray line the walls, capturing Giacometti in moments of movement. The candids show him rushing across the room cradling a craggy bust, or displays the faint quiver of his cigarette as he continues a painting of his wife, Annette.  
In the 1950s, Giacometti shifted towards full-body sculptures. He took inspiration from the tall conifers and rocky mountains that lined his childhood village in southeastern Switzerland as well as the stoic forms of ancient Egypt and west Africa. Balanced atop thick podiums, his trademark renditions of toothpick-like people wrought from cast bronze emerge triumphantly, achieving his impulse to "[r]esolve [the] tension between abstraction and naturalism."  The statues range in size from tiny figurines that pay homage to the centuries-old votive statuettes of the Mediterranean, to towering figures that dominate in spite of their fragile elegance. All bear Giacometti's iconic abstraction: beyond the textured metal are traces of the human form. This elegance is particularly seen in his frequent portrayals of nude women, yet each statue takes on a certain harshness—a glaring reminder of the isolation and reduction of humanity in the face of social expansion.
The exhibit closes with two of Giacometti's finest triumphs: "Walking Man" and "Standing Woman."  Both pieces represent the culmination of his lifelong aspiration to complete "The Ultimate Figure." For Giacometti, the perfect rendition of the human form was one that evaded realism and instead epitomized the emotional weight of living and the internal struggle constantly waged over crisis and satisfaction. "The object of art is not to reproduce reality," he once stated, "but to create a reality of the same intensity."  "Alberto Giacometti: Toward the Ultimate Figure" will be on display until June 12 and is free to Case Western Reserve University students.
Addendum: Text diverges slightly from the printed version of this article following further revisions from the writer.