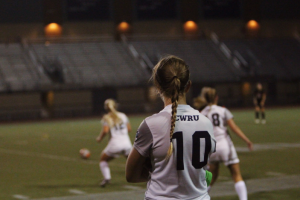 The Case Western Reserve University women's soccer team ended their season with a 2-0 road loss to No. 24 Carnegie Mellon University (CMU). The Spartans finished their season with a 6-8-4 record, including a 0-5-2 mark in University Athletic Association (UAA) play. CWRU has not won a conference match since the 2014 season.
The Tartans started the match with a relentless attack. Third-year goalkeeper Sarah Newcomb handled the onslaught well. However, as the half wore on, CMU finally broke through. With only a few minutes remaining in the first half, Tartan first-year forward Sydney Webber knocked a volley into the back of the net. Webber's first career goal was assisted by her teammate, third-year student Morgan Kontor.
The Tartans dominated possession in the half, firing nine shots with four of them on goal. The Spartans had no legitimate chances to net a goal, getting off zero shots in the half.
In the second half, the Spartans did much better when they had possession. Of their three shots in the half, two were on goal. Fourth-year forward Pauline Van Dijck and first-year forward Kimberly Chen were each responsible for a shot on goal.
Unfortunately, the Tartans' goalkeeper, Katie Liston, played an excellent match. She stopped every shot that went her way and kept a clean sheet.
The Tartans took advantage of the one opportunity they had in the second half. Third-year student and forward Sienna Stritter struck the ball from 20 yards out and snuck the ball past Newcomb for the goal. With less than two minutes left on the clock, the goal effectively sealed the match for the hosts.
Despite the one slipup, the CWRU defense performed well in the second half. They allowed just two shots with only one being put on goal. The back four of first-year student Mary Kate Ford, fourth-year student Christine Breindel, third-year student Gabby Kiefer and fourth-year student Madeline Pollifrone prevented the Tartans from getting any chances in the attacking third.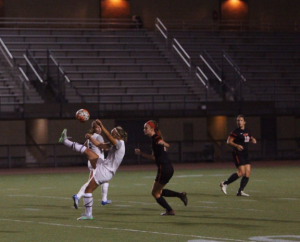 Though the Spartans ended the season with three straight losses, there were plenty of exciting moments throughout the year. Head Coach Tiffany Crooks notched her 77th career victory when the Spartans won their opener, setting a new CWRU wins record. The Spartans' last win came down to the wire as fourth-year student and forward Jennifer Zajic scored the game's only goal with just seven minutes left in the match. Earlier in the season, second-year student and midfielder Melanie Kukura scored the game-winning goal against Kenyon College with just a single minute remaining on the scoreboard.
With seven key contributors graduating this year, including the squad's leading scorer, the women's soccer team will be in rebuilding mode next season. Younger players will need to step up if the team wants to win a match in the very tough UAA.