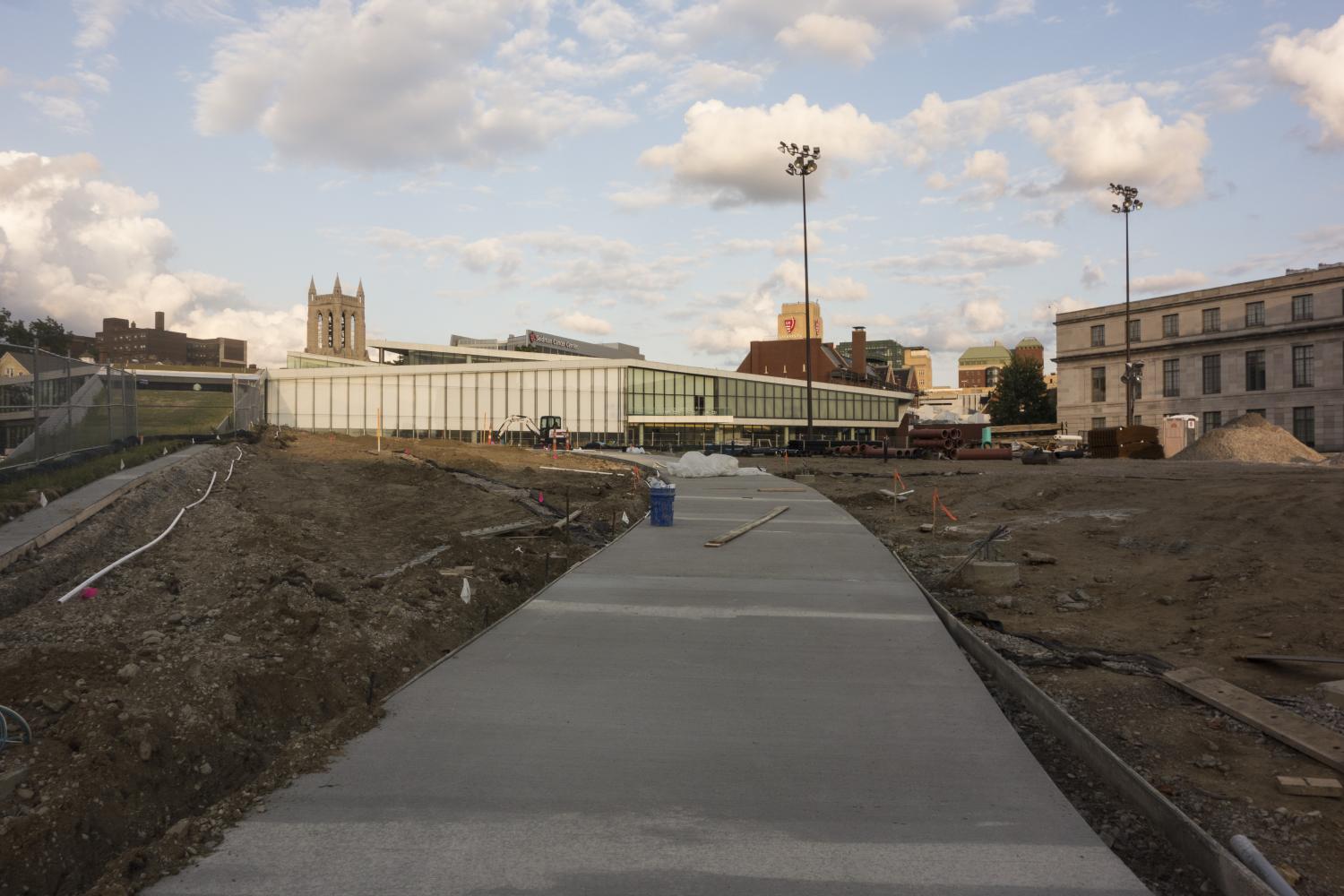 Nick Natko, Photo Editor
As students move into their Residence Halls before the beginning of the 2017-18 school year, they will notice an expansive construction project underway on the west side of campus. While construction is nothing out of the ordinary for Case Western Reserve University students, this project is particularly unique.
When completed, the Nord Family Greenway will stretch from the Tinkham Veale University Center all the way to the newly renovated Milton and Tamar Maltz Performing Arts Center, located along E. 105 street. This will provide a pathway for students, along with other residents of Cleveland, to walk from Uptown to Hough.
Third-year student Kaitlin Pataroque is excited about the two sides of campus being connected
"I think that the temple is a really cool space that isn't used a lot," she said. "From what I heard, it's going to be mostly used by music students and I think that that is really nice because the [music] facilities that we have on the other parts of campus are not as nice."
Pataroque went on to say that on Aug. 21 the New Student Welcome barbeque had to be relocated to Leutner Pavillion.
"The space, in the past, has been used for a lot of orientation events," Pataroque said. "That's where it's been for as long as I know so this year… it was really hard to relocate some of the orientation events."
The event traditionally takes place in the area where the Nord Greenway is being constructed. The change in location caused some problems with space; the line to get into the dining hall stretched across most of the north side of campus. Many students waited in line for almost half of the barbeque.
According to an article published earlier this year by The Observer , Stephen Campbell, vice president for Campus Planning and Facility Management, said that the planned space is meant for students to work and relax.
"The greenway will be a sensitively landscaped, park-like setting with areas for recreation, studying and program events," said Campbell.
Pataroque, although hesitant about the orientation event relocation, is happy that the greenway is being built.
"[The greenway] has a lot of potential because Case Western Reserve University is a very unique campus. We're pretty open to the rest of Cleveland," Pataroque said. "So I think that it's a space that a lot of families could use, especially with the location being so close to the museum and the botanical gardens."
According to a previous article on cleveland.com, the greenway is only phase one of a larger renovation project in the area. Multi-purpose bike and pedestrian pathways connecting East 105 street to the CWRU-Cleveland Clinic Health Education Campus are under construction along Chester Avenue as well as East 93 Street. These pathways, along with a dental clinic, are scheduled to be completed in 2019.
Second-year student Sabrina Tay is hopeful that the greenway can serve as a reminder of CWRU's commitment to sustainability.
"Even if it doesn't change that much [in terms] of the energy that our school uses," she wrote. "It shows people and reminds them of their responsibility to be more sustainable… [it also shows] that people are still trying to go green despite what the political climate might be suggesting."
Along with the Nord family, the Greenway construction is funded in part by the university through alumni donations and also by the Cleveland Foundation, which hopes that the project will better connect University Circle and surrounding areas. Construction is expected to be completed by spring of 2018.