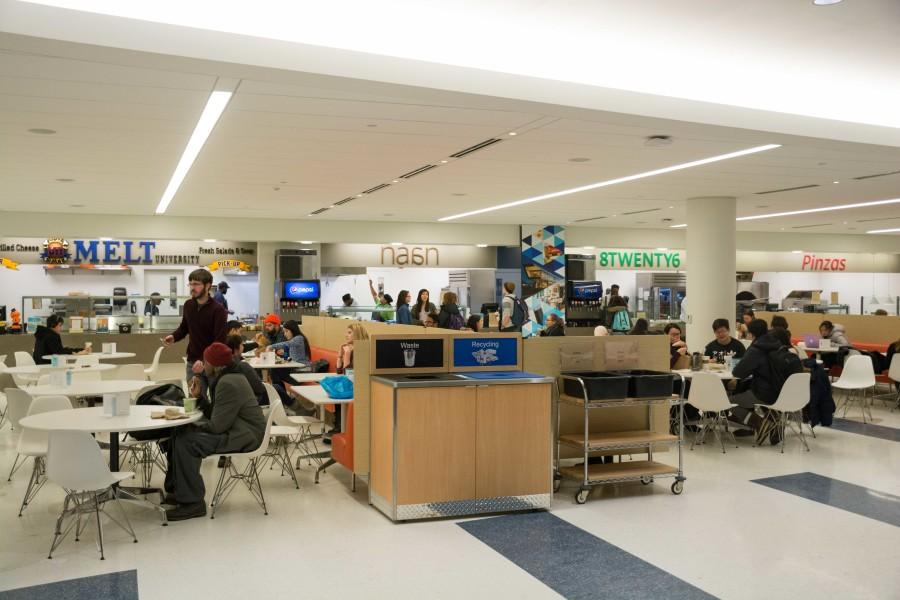 Andrew Hodowanec/Observer
Meal swipe options are expanding, with students now able to use three of their meal swipes per week at locations besides Fribley Marché and Leutner Commons.
Students were previously allowed to use two of their meal swipes per week at locations in the Tinkham Veale University Center and Denny's All Nighter. One of those two swipes could be used at The Jolly Scholar. Starting in the fall semester, students were also allowed to use one swipe per week at Tomlinson Marketplace on the quad, including at the Subway sandwich shop.
Now students can use their three out-of-dining-hall meal swipes per week at any of the locations in TVUC, Denny's All Nighter and Tomlinson. One of the three can still be used at The Jolly Scholar. There are still limits to the times at which students can use their meal swipes at each location, which are available on the Dining Services' section of Case Western Reserve University's website.
Director of Auxiliary Services Beth Nochomovitz, along with Bon Appétit Resident District Manager Jim O'Brien, Vice President for Campus Services Dick Jamieson and administrators from student affairs, met with representatives from the Residence Hall Association and Undergraduate Student Government meal plan committee at the beginning of the fall semester to discuss possible changes to the meal plan. Based on student input, they found that there was some confusion around the ways in which meal swipes can be used. Because of this, they decided to create a streamlined meal plan system, including Tomlinson swipes with the other out-of-dining-hall options.
"We work with Bon Appétit as our partners, and they have been very supportive in doing this and trying to respond to student requests," said Nochomovitz.
Nochomovitz says that there are currently no plans to expand to above three out-of-dining-hall meal swipes per week or to allow meal swipes at any of the locations in Uptown, which would not be financially feasible because they are not owned by Bon Appétit. However, she did say that there is a chance of meal swipe specials at the new Dunkin' Donuts.
"For next year, we are pretty much focused on maintaining the portability of swipes," said Nochomovitz.
She also added that new additions to the meal plan, including limited dining hall hours during fall break and Thanksgiving break, which were both tested this year, will be continued into next year.