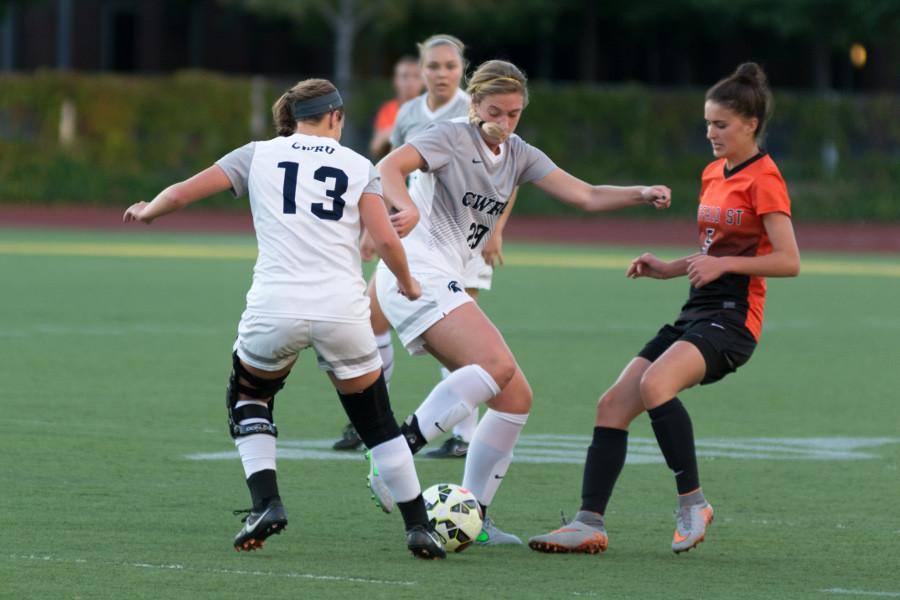 Andrew Hodowanec/ Observer
As any Clevelander knows, the rain in northeast Ohio can be brutal and any rational college student would stay inside. The women's soccer team not only played through the rain but battled for an extra two periods of play until having to take the scoreless draw against University Athletic Association (UAA) rival Emory University. The Spartans then dropped a rough loss against the University of Rochester falling 4-0.
The Spartans opened the weekend ranked 23 in the nation but saw themselves slip off the Top 25 rankings this week following the skid.
The tough weekend began with the hard fought battle Friday night at home against the visiting Emory. The crazy weather placed tough conditions for both teams, as it downpoured throughout the game opening, and hailed early in the second half.
Despite these horrible conditions, especially for a goalie as the ball was obviously slick with rain and hail, the standout player for the Spartans was fourth-year student and goalkeeper Megan Romelfanger. Romelfanger posted her fifth individual shutout effort of the year and she stayed between her sticks for the entire 110 minutes of play.
The two squads battled back and forth all night. Emory held the lead in shots firing off 19 in the match but only posted seven on the mark as Romelfanger kept all seven out of the back of the net, a season high mark. The Spartans were much more efficient, taking seven strong looks with five shots on goal but were also unable to find the back of the net. Despite this the two squads battled to the 0-0 draw, both sides unable to overcome both the weather and their opponent.
The Spartans then, although appearing worn down from their Friday night battle, took on University of Rochester Yellowjackets and dropped the match in a 4-0 blowout. The Spartans were unable to truly contain the Yellowjackets from the opening whistle as Rochester scored on a bullet into the far corner a mere minute into play. From there the Spartans were playing catch up, but were struck by horrible luck as a ball bounded off the Spartan defense and into the back of the net on an own goal.
With morale down and losing 0-2, the Spartans looked to rebound in the second half but were unable to do so as the Yellowjackets found the back of the net twice more at the 54:36 and the 85:40 marks to put the final nail in the coffin.
While the Spartans stand at 0-3-1 in the UAA, they have had extremely strong play most of the season and simply need to get the ball rolling back in the right direction. Look for the Spartans to rebound this weekend as they take on the College of Wooster at home Saturday, Oct. 24 at 1:30 p.m.