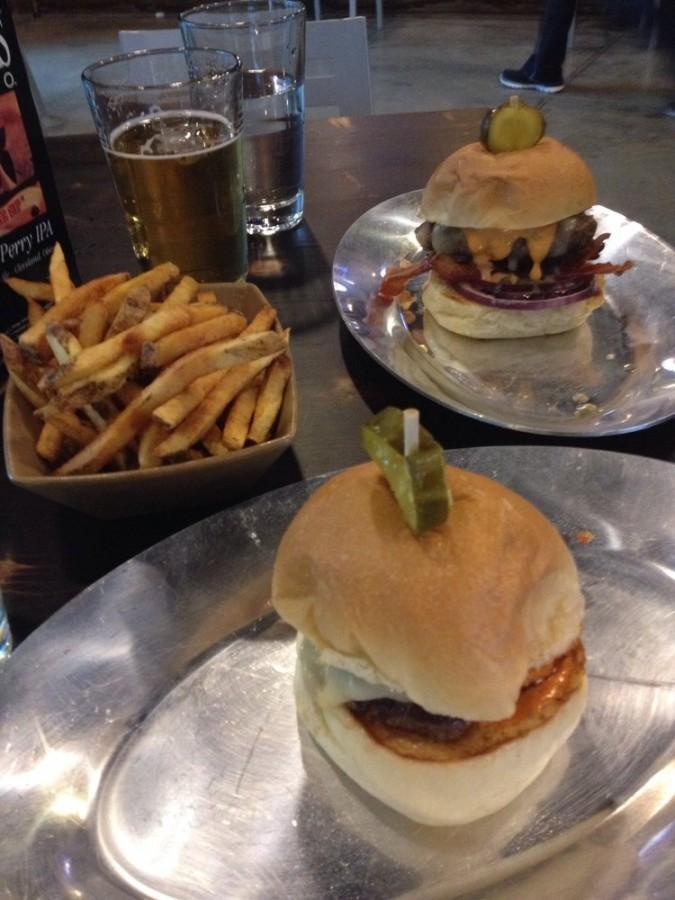 Courtesy Yelp user Amy Y.
When the large, obnoxiously orange "Dynomite Burgers and Sushi" sign appeared in Uptown Cleveland, I had one thought:
"Wow, what a typo."
Despite its confusing spelling, Dynomite is a welcome addition to Uptown's slew of restaurants and bars. And it brings burgers, a plate not often offered by the previous lineup of eateries. Sure, there were always the Jolly Scholar and ABC Tavern down the street, but these two restaurants focused more on their bars than their food.
Dynomite does the opposite.
The open-air patio around Dynomite offers outdoor seating and coverage from rain, and inside the restaurant, a large fan displays local sports teams on each blade (one even includes Case Western Reserve University athletics). The relatively small indoor space pays homage to the original Dynomite Burgers, located in a small shack at Playhouse Square.
Dynomite does not serve at typical burger, unless that's what you want—in which case, there is a build-your-burger feature that allows you to pick whatever toppings you're in the mood for. Instead, their featured plates mostly embody Bruell's other restaurants: The Chinato, The L'Albatros, The Kafeteria, The Cowell and Hubbard and The Parallax all were inspired by culinary themes from these restaurants.
Just one bite of The Chinato was packed with flavor. The spicy burger slathered in onions and mozzarella cheese was the burger version of an Italian sausage. The tender, juicy sandwich held together throughout dinner, but was so weighed down with toppings that it was a close, delectable race.
Next was a turkey burger that tasted like it was straight out of a Thanksgiving dinner. A thick slab of turkey was coated with a layer of cranberry sauce, mayo and shredded lettuce. It all combined into a weird, but perfectly  balanced, combination of fruity and savory.
The fries were lightly salted, and not too greasy; one order was the perfect size to split between two people.
This review is only half the story; while Dynomite is known for their burgers primarily, its new Uptown location also serves rolls of sushi and other items like buffalo wings and wraps. However, with Crop Kitchen across the street and Kenko opening down Euclid soon, even sushi is going to be easier found than a good burger.
And Dynomite definitely has some good burgers.
Restaurant: Dynomite Burgers and Sushi
Location: 11500 Euclid Ave.
Price Range: $4-10
Rating: 4.5/5