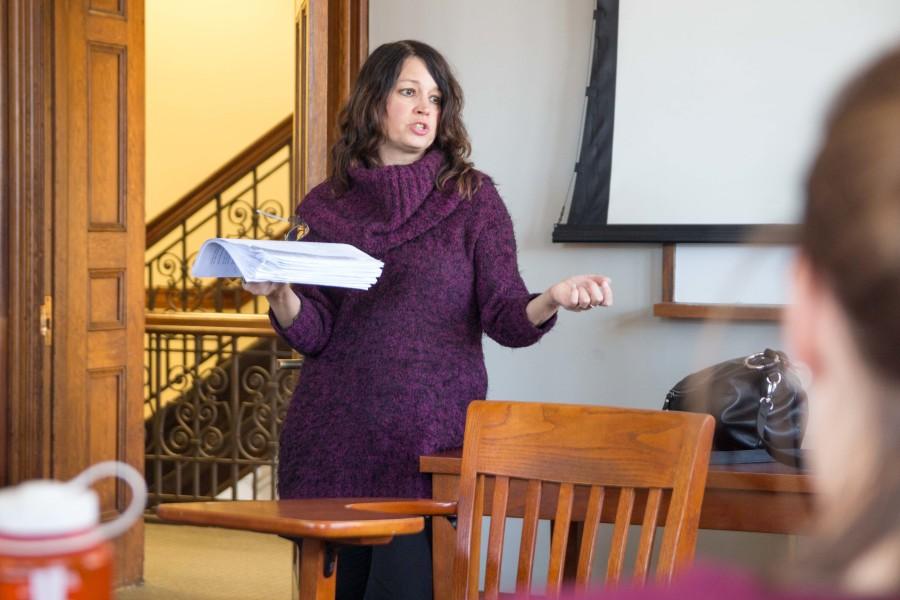 Andrew Hodowanec/Observer
When students take Associate Professor Cheryl Toman's class, they have a chance that students working in research labs crave: to be published.
The FRCH 314: Translation Techniques class is currently translating "Garçons et Filles," the second book in a series by author Alice Endamne. The first novel, "C'est demain qu'on s'fait la malle," was translated to the English novel "Afropean" by the Fall 2013 section of the class and has since been published. Edamne also makes herself available to students, and the class connects with her via email or Skype.
Despite 15 years of translating literature for publication, Toman previously avoided teaching the class because she didn't want to translate isolated sentences from workbooks. But after Edamne approached Toman about translating her first book, Toman realized that she could give the class a more practical approach. She ran the idea by Edamne, and they agreed that the class would translate the novel with the supervision of Toman.
For some students, the practical application of their work was a major draw in taking the class. Fourth-year student Katie Sturniolo has studied French since her sophomore year of high school and is considering a career as a translator. She was surprised to discover that there isn't a codified process for translation. The most important part is improving your knowledge of the language.
First-year student Ethan Feingold said the work seems more meaningful when it's going to be published. Like Sturniolo, he expected to learn about foundational techniques to translation, but soon learned that having a strong grasp of the language and cultural nuances was more important.
Throughout the process, translating such nuances and idioms cause the most difficulty. Feingold said it can take 20 minutes just to translate a single sentence. Toman mentioned that it might actually take weeks.
"We constantly rework these things and try to come up with equivalents," she said. "The students become familiar with cultural nuances that they never even heard about."
Second-year student Angel Bai is used to translating texts as a classics major, but the stories she reads are so well-known that there isn't the same fear that readers won't understand the nuances. They are not relying on her to tell them what happens.
Sturniolo noted, though, that the book isn't too complicated. It's a young adult book, and, unlike other projects the class worked on throughout the semester, it doesn't deal with technical language.
"The content is important in all translation, but with literature, you have to capture the artistry and sometimes even the poetry of the words and phrases," said Toman.
Yet another struggle the class faces is uniformity throughout the novel. The class translated the first chapter together, but after that each student was assigned their own section. However, during class students peer review each other, helping each other to choose the best words or phrases to capture the original meaning of the work.