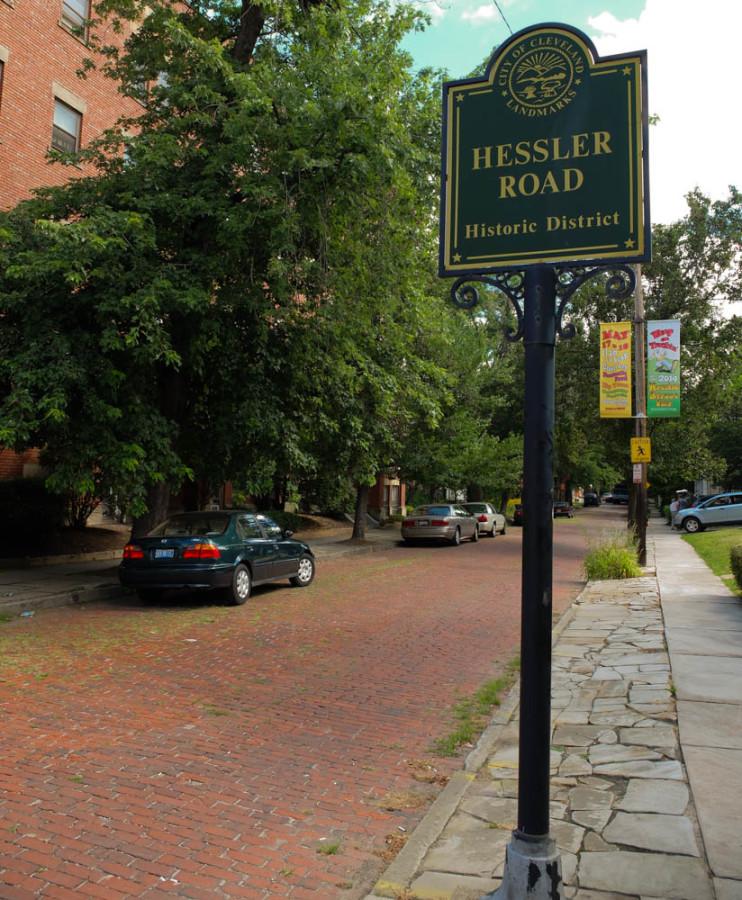 Anmol Nigam/Observer
Despite its close proximity to the Case Western Reserve University campus, Hessler Road, home of the Hessler Street Fair and many students' apartments, is under the jurisdiction of University Circle Police Department (UCPD). That is a separate entity from the CWRU Police Department (CWRU PD).
On July 30, Hessler Street residents received a letter from Chief Jim Repicky of the UCPD stating that his department has responded to several calls over the past months. These calls included reports of a "loud party," "loud music" and "unnecessary noise." The list goes on to include complaints of "underage drinking" and "games in the street."
The letter outlines actions to be taken against residents that violate these complaints. They may be subjected to criminal citation by the UCPD and the Office of Student Conduct and Community Standards may be notified of their conduct.
"Why don't they worry more about the community's overall safety?" asked Hessler Road resident and CWRU senior Douglas Lee. "There's been a major string of robberies along the major streets, but instead the new Chief wants to focus on street games and kids trying to have a good time on the weekend."
Sergeant Jeffrey Daberko of the CWRU PD confirmed that Hessler Street also experiences many property crimes, including theft and burglary.
"We had a meeting with a couple of residents and I took a walk over there a couple times to see," said Repicky. "And I'd say there's maybe 20 to 25 [apartments and houses for rent] at the end. And unfortunately, you have a mix of students and neighborhood."
Repicky declined to comment on how his policies have changed from his predecessor, Chief John Pavelich.
"I will state that I plan to be proactive rather than reactive, and we will address issues as they come about in the University Circle area," said Repicky.
For those students that receive calls about noise complaints on Hessler Road, Chief Repicky confirmed that they will be cited, and those citations will go on individual records.
As for what a citation entails, Sergeant Daberko said that the letter refers to a "minor misdemeanor citation" given out for violating of the noise ordinance for the city of Cleveland. He described a minor misdemeanor citation as "basically like getting a ticket. You can choose to pay the fine or choose to contest it."
According to Daberko, the CWRU PD uses citations as a tool of last resort.
Chief Repicky's letter stated that the Office of Student Conducts and Community Standards may be notified of student violators. That includes underage students caught drinking.
"If you're underage, then you're underage, and then it could go over to Case, and I don't think they want to go that way," said Repicky.
Depending on the circumstances, the Office of Student Conduct and Community Standards has the discretion to give students warnings or to place them under suspension, probation or expulsion. Suspension, probation and expulsion are much rarer than a warning. The typical course of action taken by the department is to meet with the student and issue a warning if appropriate.
Kaleena Rolitsky, assistant director of the Office of Student Conduct and Community Standards, said, "Our goal is to help students be positive members of the community."
The aim of Chief Repicky's letter was "to make sure that everybody enjoys the neighborhood…There's a fine line, and we just want to say, 'hey, this is a neighborhood just like anywhere else, let's act like adults.'"
He offered advice for those students planning on throwing parties: "Keep the noise down, and minimize the amount of people…Otherwise it's not fair for the people that live there."