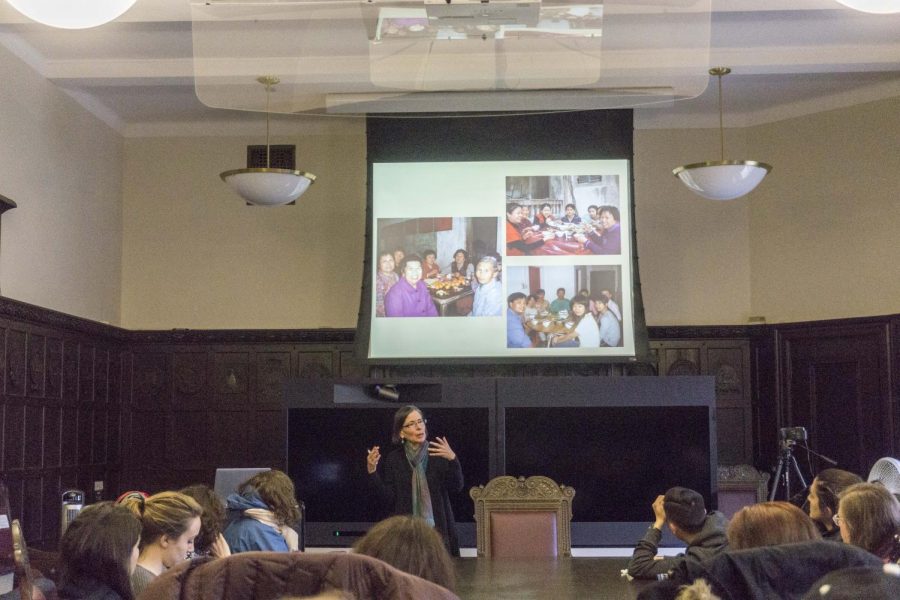 "The emperor's job was to nourish the people, and if he was not able to, the people had the right to overthrow him," said professor Ellen Oxfeld of Middlebury College's Department of Sociology/Anthropology.
As a part of the ongoing Anthropology Lecture Series, Oxfeld spoke about food as a form of moral disclosure in her talk entitled "Food as Moral Discourse in Contemporary Rural China."
Oxfeld is a visiting professor from Middlebury College. The published author studies how food symbolizes space, time and relationships in people's lives, as well as their ethnic identities. Some of her books include "Bitter and Sweet: Food, Meaning, and Modernity in Rural China" and "Drink Water, But Remember the Source: Moral Discourse in a Chinese Village."
Her lecture on April 16 revolved around how people's actions and decisions regarding food convey moral messages.
Dr. Lihong Shi, a Case Western Reserve University assistant professor in the Department of Anthropology and one of the series' founders, discussed the importance of Oxfeld's lecture.
"This talk is about food and moral discourse," Shi said. "Everyone can find interest in this topic, because who is not interested in food? But very rarely do we associate food with morality, and Professor Oxfeld has made this rare connection. This helps us not only understand the Chinese community, but also about our own food consumption and its relationship to morality in our society. "
As an example of how the exchange of food between people creates a moral connection, Oxfeld shared that parents in rural China would grow rice and vegetables to send to their children in the city. They did this, she explained, to maintain a relationship with their children and to make their kids feel committed to taking care of their parents when they get older. She said that in China, it was also a tool or path used for moral discourse against the Chinese government.
"This [lecture] makes students think about food production in the future, and how we see food and morality in our own cultures as a way of hidden communication," Oxfeld said.
Oxfeld demonstrated that in China, this is shown through food production methods as a revolt against the government; due to melamine contamination in powdered milk, many citizens lack trust in the administration, whom they suspect to be the source of the toxicity.
The lecture was well received by CWRU students.
"I had a conversation with a group of friends about Chinese philosophy and ethics, and I wanted to see the moral side of Chinese culture and philosophy," said a first-year political science and finance major who attended the talk. "That is the reason [I found the lecture] to be interesting."
This talk was the fourth lecture of the Anthropology Lecture Series, which encourages CWRU students to think about contemporary issues that are occuring on a global scale. It also provides them with the tools needed to interpret and apply the study of human societies and cultures to real-world problems
Dr. Vanessa Hildebrand, an assistant professor of anthropology, said, "This [series is] really beneficial because it offers students different perspectives and expertise that we have available in the [Department of Anthropology]. It also offers us the time to come together and discuss topics in a less formal atmosphere outside the classroom; this provides students [the opportunity] to see how real anthropology talks are conducted."