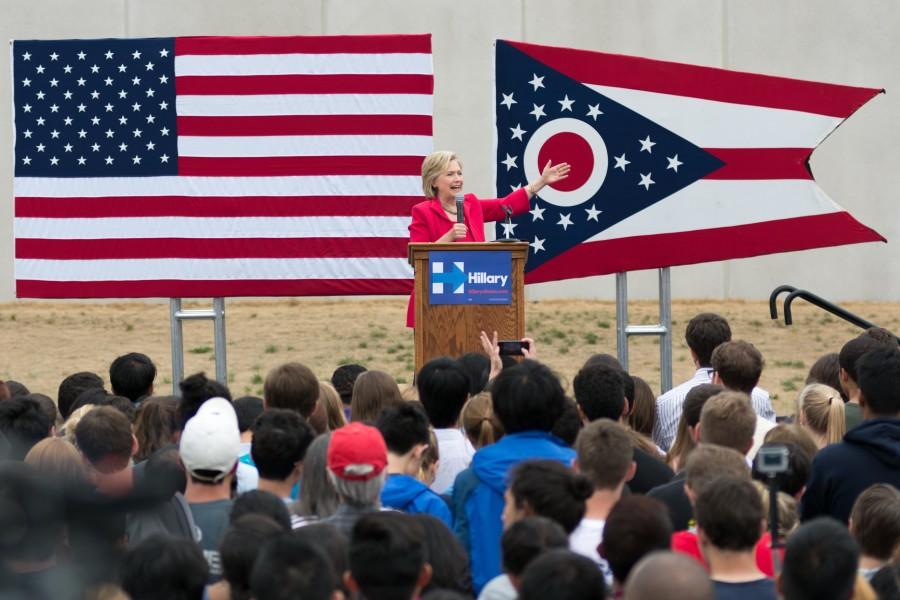 Andrew Hodowanec/The Observer
Julie Rehm, vice president of government and foundation relations for Case Western Reserve University, couldn't list all of the departments that were involved in planning for Hillary Clinton's recent visit to campus, for fear that she would forget someone's contribution.
The Clinton campaign contacted CWRU over the weekend, and the following Thursday over 1,000 people gathered at Freiberger Field to hear the presidential candidate speak.
"It was an invaluable learning experience for me," said Rehm. "It was amazing to see how all of the people involved pitched in to help the campus prepare."
According to Rehm, the initial plan for the event was to hold it in the Tinkham Veale University Center (TVUC) ballroom. However, due to the unexpectedly large number of RSVPs that the Clinton campaign received, they asked that the event be moved outside. CWRU agreed, after a new agreement on rental fees and an assurance that the event wouldn't damage the field.
Following this location change, some portions of TVUC were to be closed, but the Secret Service determined that for Clinton's safety most of the building would have to be closed off. From 11 p.m. on Aug. 26 to approximately noon on Aug. 27, TVUC was closed, apart from the bathrooms at the southern corner of the first floor left open for the crowd.
Clinton's campaign sent workers to set up the field, who were joined by a few university employees tasked with ensuring that "campus processes were followed."
In the closed portions of TVUC on the morning of the event, Clinton, some campaign staff and Secret Service members waited to begin the talk.
In addition to the Secret Service personnel present, extra CWRU PD officers, members of the Cleveland PD and other federal staff were present to increase security. CWRU also worked with the Secret Service to make sure that Clinton's travel both by vehicle and on foot was safe.
"Scale is one factor, but the security and large number of media attending are others," said Rehm. "Given all three, it's difficult to think of a recent comparable event. In 2011, the university kicked off its capital campaign with Blue Bash, an event that had much larger attendance than this one but did not involve the Secret Service or several dozen media representatives. In 2004, the university hosted the vice presidential debate; it too was far larger than last week's gathering but did include even greater security precautions and numbers of media representatives. That said, both the Blue Bash and the debate were events for which the university had months to prepare; last week, we had days."
Rehm is also looking forward to the potential for other candidate visits in future, given Ohio's political importance and the upcoming Republican National Convention to be held in Cleveland.
"We hope that as this election cycle continues," Rehm said, "our campus community has an opportunity to hear from other presidential candidates across the political spectrum."