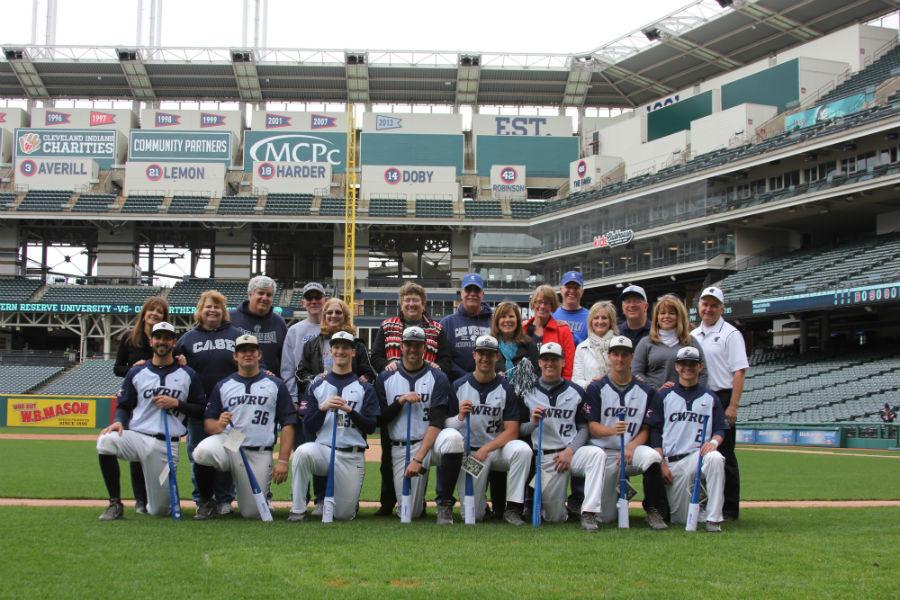 Courtesy Case Sports Information
The Spartans got a taste of the big leagues on Tuesday as they bested Ohio Northern University in their annual game at the home of the Indians, Progressive Field.
The Case Western Reserve University squad won four of its past six games this week. Following a Thursday afternoon win over Heidelberg University, where the Spartans crushed the Student Princes 14-6, the Spartans split their double-header against Wittenberg University. The Saturday matchup saw the Spartans drop the first game 3-2 before rebounding in the second for a solid 9-3 win. The Spartans then dropped their Wednesday night matchup with Otterbein University by a narrow 8-7, before winning their second game of the night 7-5.
However, the Spartan's highlight this week was their win over Ohio Northern, played at Progressive Field. The Spartans rode the pitching dominance of Kevin Johnstone to victory as the team beat out nationally ranked Polar Bears, 3-2. Johnstone gave up only four hits in his nine innings of work and didn't allow a hit after the fifth inning. In addition to his lights out work the Spartan pitcher struck out six of the batters he faced on his way to his fourth win of the season.
The Spartans played a lot of small ball as they compiled eight hits and only one earned a Spartan more than one base, Jordan Swisher's double in the fourth inning. That double-kicked off the inning and Swisher ended up scoring on an error by the Ohio Northern shortstop with two outs left in the inning, tying the game at two runs apiece.
The Spartans grabbed the winning run in the bottom of the seventh as Eric Eldred reached base on an error and was moved to the third off a sacrifice bunt by sophomore Antonio Damiano. Sophomore Aaron Cain knocked Eldred in with his screaming line drive single to right field, to grab the 3-2 lead and the eventual winning run.
In addition to the special event of being able to play at Progressive Field, the Spartans also honored their eight senior players; Will Meador, Kerrigan Cain, Swisher, Johnstone, Rob Winemiller, Eddie Abramson, Dan Sondag and Andrew Gronski.
The Spartans now stand at 19 and 11 on the season and are still looking to capture a large bid to the playoffs. The Spartans also hope to finish their season on a strong note as they have eight more games scheduled this season. The Spartans will take on DePauw University and University Athletic Association rival Washington University at St. Louis in a round robin, a pair of double games on both Saturday and Sunday. The Spartans then finish their season with double headers on the reading days, a doubleheader away against Marietta College on Tuesday and a final double header at home against John Carroll University on Wednesday. The final stretch begins April 25 at 10:00 a.m. in Indiana, against DePauw.