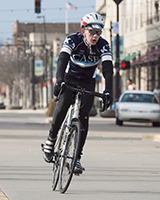 Courtsey Case Cycling/ Facebook
The Case Cycling Team is bringing their talents to NEOCycle, the Midwest's biggest urban cycling festival, this weekend. The club will be organizing a Criterium race on Sunday, Sept. 13, which will feature a short, fast-paced race around Battery Park, near the event's hub at Edgewater Park.
The club is hoping to get about 200 sign-ups, including about 10 students from the club who will be participating in the race. The event costs a total of $11,000, of which $3,000 comes from company sponsorships and the rest of which comes from registration fees.
"We're pretty much in charge of the entire event," said Case Cycling president Matthew Swartwout. Race director and Cycling Club vice president Evan Guarr worked on all of the organizational pieces of the race, including getting permits, finding race officials and arranging for set-up and teardown on the day of.
NEOCycle also features a number of other races, as well as stand-up paddleboarding, mountain bike demos, yoga, pinball, vendors, a beer garden, performances and more. In 2014, the event drew over 10,000 attendees in its first iteration.
Case Cycling also hosted a race at last year's event, in addition to a number of collegiate races. Online registration for the Criterium is available until Friday, Sept. 11 at noon, but day-of registration for most of the events is available throughout the weekend.
"It's a huge event," said Swartwout. "This is definitely the biggest race we've done so far."