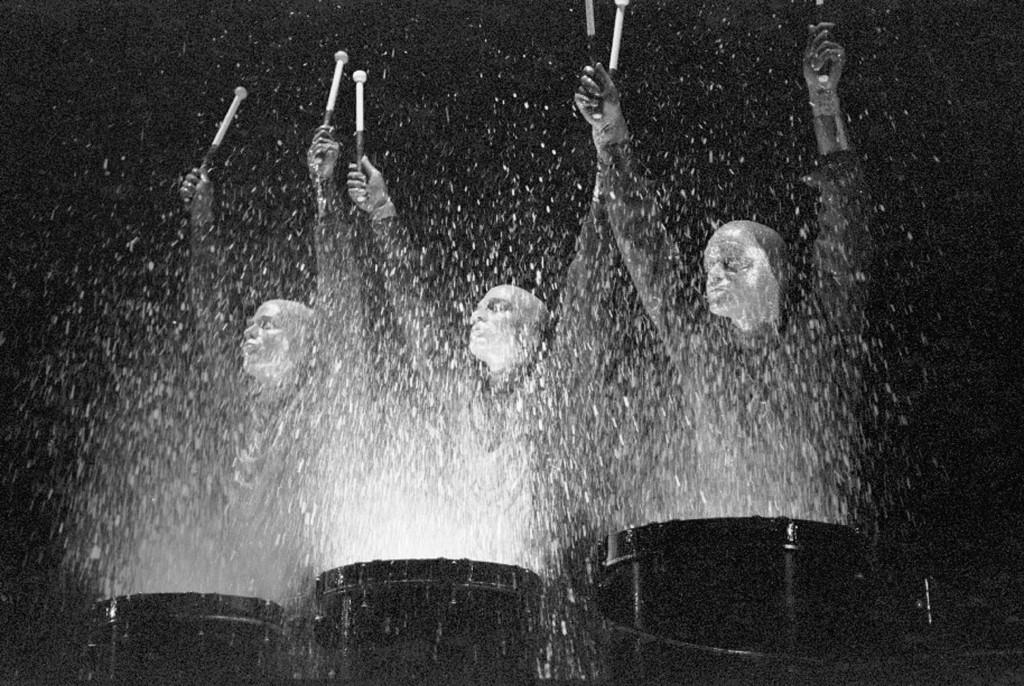 What do Eiffel 55, The Smurfs and the Na'vi have in common with Cleveland's own Playhouse Square. Spoiler alert: they all feature blue men who are out to prove something. For the next two weeks, Cleveland's theatre district will be invaded by creepy blue mimes. The blue men in question are the Blue Man Group, a collective of grease-painted performance artists who use mime to deliver a series of increasingly amusing vignettes on humanity and tolerance all while rocking out to their unusual percussion instruments and techno beats. As a politically incorrect troupe of blue-faced performers sounds, the Blue Men Group can be construed as the theatrical morality play for the digital age.
At the start of the show, a flashing screen instructs the audience to not take videos of the performance—not because of copyright infringement but because the last thing the internet needs is another low-quality, shaky performance video on Youtube. That's a fair point because the true way to experience the Blue Men Group is live. Sure, they play around with drums and PVC pipes and other things that go boom. They still put paint on their drums and make artwork from the splatter. And –inside joke warning – they still eat Twinkies. There's even a photo-op available afterwards, but don't expect them to break character. It becomes very creepy by the end.
The simple truth is that while the Men are entertaining, the show has become a victim of its success over the last fifteen years. What was once a novel theatrical concept now appears trite; futuristic mime hasn't been experimental theater since 1995. Where it most definitely succeeds is combining classic routines with enough doses of modernity to keep the show fresh. When the Rockettes visited Playhouse Square two years ago, their show had the exact opposite problem; three classic routines were surrounded by a dozen scenes of contemporary dribble involving dancing little people and plants dancing on stage. Each mention of Twitter, Facebook and the iPhone –here portrayed as the all-knowing, omnipresent guyPhone – shows the effort the creators go to maintain relevancy. As a flashing screen at the start of the show reminds the audience, there is no texting during the show, lest the old person sitting next to you feels inadequate. The Blue Men are by no means inadequate, judging by the look of fear in their bloodshot eyes.
The Blue Men Group ultimately teaches us that there is a shared humanity behind every person in the world, regardless of their familiarity with how to eat a Twinkie. If you plan to see only one set of blue-skinned performers this year, make sure it's the Blue Man Group. It's the closest you're ever going to get to Pandora, unless James Cameron decides to create an Avatar musical. But let's be honest, that has "bad idea" written all over it.