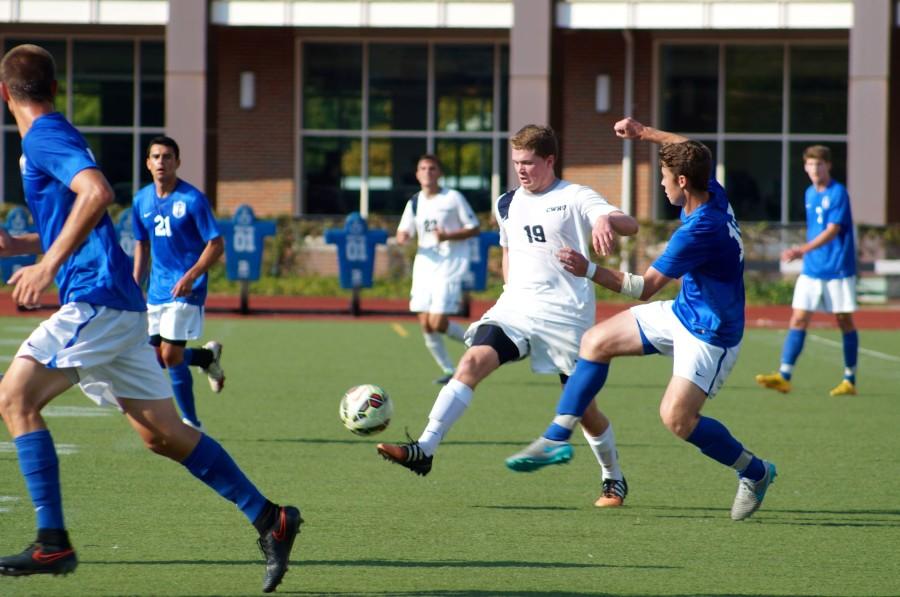 Stephanie Kim/Observer
The men's soccer team had an up-and-down weekend of games, with the Case Western Reserve University Spartans finishing 1-1 consisting of a blowout win versus University of Pittsburgh at Greensburg on Saturday, and a tough loss in overtime versus Thomas More College. The overtime loss was the first of the season for the team, who are now 2-1 this year.
Against Pitt-Greensburg, the Spartans started strong with a quick goal by sophomore Michael Balog at the 19:54 mark of the first half, and the team never looked back from there. Four second half goals pushed the blowout to a dazzling 6-0 win for the Spartans. The Spartans (unsurprisingly) outshot Pitt-Greensburg 29-5 in the contest and overall held a 6-1 advantage in corner kicks.
When asked about Balog's strong season so far, Head Coach Brandon Bianco said, "He has the ability to be as good as he wants to be." Coach Bianco also didn't hesitate to say what the team can improve on, saying, "In the first half we didn't play with the necessary energy and engagement, but still scored two timely goals, which was good. "
Looking to continue their quick start to the season, the Spartans once again got off to a hot start against Thomas More, with Balog scoring the first goal of the game in the 15:47 mark. From then on, it became a back-and-forth scoring match that didn't end until overtime, with Thomas More coming out on top. Thomas More's Eli Nienaber responded to Balog's goal just a little over a minute later. The Spartans once again went up by one thanks to junior Jacob Grindel's goal in the 60th minute of the game. Once again, however, the Saints responded, scoring a goal of their own in the 66th minute.
With the score tied 2-2 at the end of regulation, the game went into a 10-minute overtime period. All the way in the 96th minute of the contest, the Saints took their first lead of the game, and ultimately closed it off, giving the Spartans no chance to come back. When asked about one thing he could change, Bianco said, "We got fatigued; we didn't manage the game as well as we could have. It's something we'll focus on."
Bianco attributed the fatigue of his team to the hot temperatures during the game. Nevertheless the Spartans showed they can compete with some of the best by holding their own against No. 8 ranked Thomas More.
The Spartans rebounded against Baldwin Wallace Wednesday night as they broke a tie to go up 2-1 late in the game for the win. Look for a full recap online at observer.case.edu.
CWRU will look to turn the win into a streak as they take on Capital University at 5 p.m. on Saturday afternoon.