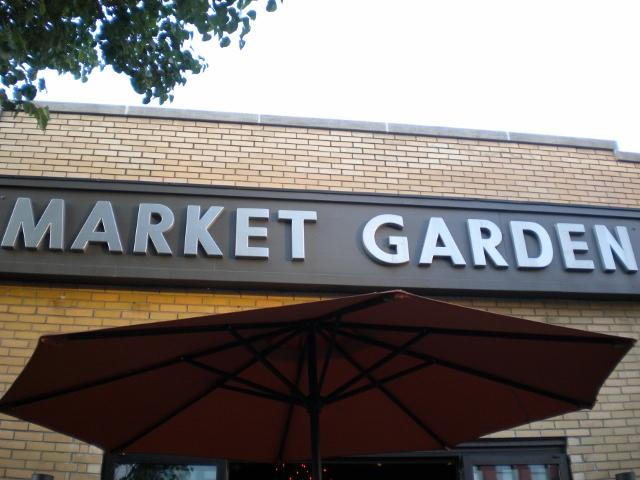 Teddy Eisenberg
From a seat outside on Market Garden Brewery's sunny patio, the presence of the West Side Market offers one of the most scenic architectural backdrops in Cleveland. Market Garden is Cleveland's first self-proclaimed beer garden, located in the epicenter of Ohio City on the corner of West 25th Street and Lorain.
The interior of Market Garden Brewery is by contrast dark and warmly lit, furnished by wood tables, stools and a basement speak-easy. Lighted signs proclaim that the presence of beer and spirits are found in such abundance that they make up half of the restaurant's simple menu. Indeed, one can see the brewing facilities through the back room's large windows.
Market Garden Brewery is, without a doubt, a brewery first and restaurant second. Anyone dining here will feel that the food is secondary to the immense beer list.
The best item on the menu does well to incorporate the restaurant's honed brews in the form of a beer cheese sauce that tops chorizo cheddar pierogies. The yeasty taste of the sauce compliments to the deep-fried taste of the dumplings' outer coating, bringing out the flavor of the scallions and crème fraiche inside. The first bite is absolutely "yum" inducing, with its hearty combination of all the aforementioned flavors.
Also on the appetizer menu is a cheese tray that features selections of artisan cheese from the West Side Market next door. The identity of each of the three cheeses is a mystery, leaving the taster to either ask their server or guess based on prior knowledge. The first piece smells like a Gruyere with a goat-y note that is mildly off-putting. The flavor punches the tongue, only to back away on a delightfully creamy note. Second on the tray is an odorless, slightly aged Gouda. Offering a granulated and powerful flavor that compounds with each bite, this cheese is the most satisfying. Last, and certainly least is a soft and salty blue cheese that is surprisingly non-offensive (the reader should note that blue cheese is not my personal favorite). The pickled vegetables and apricot paste served on the tray serve as excellent palette cleansers.
The entrée is a French dip sandwich comprised of roast beef and caramelized scallions that nicely accompany the home spiced fries. The main star of this dish, however, is unfortunately salt. Not even the au jus can help the sandwich escape from its overpowering grip. As far as French dips go, this one is on the good side of "just okay."
Market Garden Brewery is definitely a place one visits for the beer, with not a tremendous amount being offered in the way of fine dining. It falls short of its West Side Market inspired name. Readers looking for a fast, inexpensive restaurant with a unique beer selection will find things to like about Market Garden. Those looking for a noteworthy dining experience are encouraged to look elsewhere on West 25th Street.