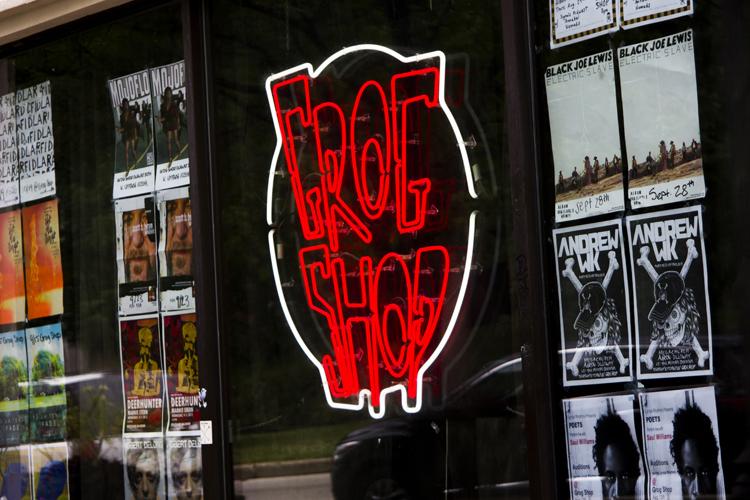 Sheehan Hannan / Observer
The Grog Shop might not look like much from the exterior.
Located around the corner of Coventry Road, a little ways after the Mongolian Barbeque and Phoenix Coffee stores, the tan stone front of the venue does not exactly scream, "music" or "bands" or really even "concert venue." The only indicator that Grog Shop is a place to see live music is its poster-coated front window, each sheet advertising a date and band for an upcoming performance occurring within the building.
The outside might be a little vague, but once one steps inside the hidden cove of Coventry, there is no confusion over what the building is for.
When I visit Grog Shop, I always notice one of two things. Usually I'll first be captivated by the amount of stickers and posters taped everywhere on the walls of the building, creating many different layers of color and music information. It is kind of beautiful in a weird punk-rock sort of way.
But sometimes, I notice something else first; a kind of smelly smell.
Yeah, sometimes the place smells pretty rank. It usually goes away after the vents have been running for a while, but it is also not strange for it to linger for the next couple of hours. I can never really be sure if someone just ripped one before I conveniently walked in, or if something is potentially wrong with the building's ventilation.
Granted, it is a place where lots of sweaty people stand around and dance to music. You could never expect it to smell like roses. However, based off the much cleaner, but just a little bit musty smell I've experienced at my last few Grog Shop visits, the problem seems to be fixed.
Maybe Grog Shop ramped up the airflow through the giant vent that hangs directly above the audience standing area. At the Vintage Trouble concert last Saturday, it got so chilly that I had to put on a sweater. It was a nice change from the humid heat that builds up in most small venues.
Case Western Reserve University student Andrew Freedman enjoys the Grog Shop's scene too. "The people who run it always play great music on the speakers while we are waiting for the next performance and there is just an incredible amount of cool posters and stuff covering all the walls," he said. "It's also a smaller venue compared to some other venues of similar prominence so when bands come there, you can easily get personal with them."
That said, Grog Shop is small even for a small venue. An area to the left of the stage reserved for band merchandise and a hallway in the back for the restrooms are the only two areas of the venue not being used as a bar, stage or standing area.
Grog Shop is the closest concert venue from CWRU, and greenies regularly loop down Coventry Road to pick up concertgoers from the latest show. Some upcoming concerts include Robert DeLong on Sept. 3, Best Coast on Sept. 14 and Yo La Tengo on Sept. 15. They also put on non-musical events like the Lyrical Rhythms: Poetry and Soul Open Mic Night (Sept. 10).
Concerts usually range anywhere between free and 25 dollars.
The cheap factor and the closeness of the stage to the audience are two of the most appealing things about Grog Shop.
"The Grog Shop is extremely intimate," said student Julian Potter. "You are so close to the artists and your fellow concertgoers that the experience of that concert will resonate with you for quite a while."
CWRU student Jay Zhang agrees. "If you get there early enough, you can be within spitting distance of whoever's performing!" she said.