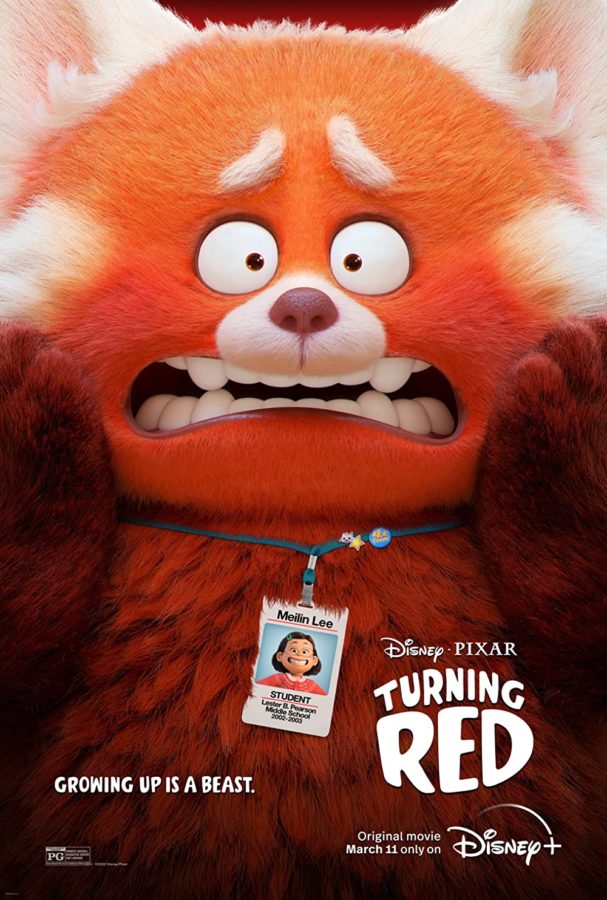 Courtesy of Disney
A couple of weeks ago, I finally sat down to watch Disney-Pixar's newest movie "Turning Red." With all the hype surrounding it and my enjoyment of Disney's recent "Encanto," my expectations going in were pretty high. And while the story was wonderful and the animation was superb (i.e. that cooking scene!), I don't think anything could have prepared me for its soundtrack.
Because, honestly, it slaps.
To give some background, "Turning Red" follows Meilin "Mei" Lee, a 13-year-old Chinese-Canadian girl in the year 2002 who has to deal with all the things that early teens face: puberty, friendships, crushes, family relations, etc. Sounds like your typical coming-of-age story, right? Well, wrong, because Mei has a hereditary disposition that turns her into a giant red panda whenever she feels any strong emotion. As the inevitable hilarity and chaos ensues, Mei begins to learn that both good and the bad experiences in life shape one's identity, and accepts that these experiences are an important part of growing up.
With this premise, the soundtrack to the movie had to fit with both its characters and its time period. Such was the challenge for Grammy award-winning artists Billie Eilish and Finneas O'Connell as they composed the original songs of the movie, and renowned composer Ludwig Göransson—probably best known for composing the score to Black Panther—who was tasked with writing the score to the film. And thankfully they did not disappoint.
For the original songs in the movie, Eilish and O'Connell took the audience back to the year 2002 by creating three new pop songs for the fictional boy band 4*Town. Seeing as Mei and her friends were teens at the peak of the boy band era, the stylized conglomeration of the early Y2K scene, being reminiscent of the Backstreet Boys, *NSYNC and other boy bands of that era fit well.
One of their new songs, "Nobody Like U," was featured heavily throughout the movie and has proven popular. It was sung by both Mei and her friends in the film and the 4*Town characters as well—voiced by Jordan Fisher, Josh Levi, Topher Ngo, Grayson Villanueva and O'Connell himself. The song is a classic, early 2000s-sounding boy band song, full of odes to love, all in a harmoniously autotuned style, complete with a memorable bass-beating rhythm and a chorus that you can easily hum. But, if you only watched the movie, you would think that the song consists solely of just an initial verse and a chorus, since these were the only parts featured in the movie. However, if you look it up—which I highly recommend you do—you'll see that there is a whole other verse full of rapping, a post-chorus repeating the words "like you" in a remixed, record-spinning (turntablist) kind of style, a refrain of the first verse and a double repeat of the chorus. These additions to the song completely enhance its overall vibe, making it into a full song that's worthy of downloading and bopping to.
"1 True Love" is the next song created by Eilish and O'Connell, which is completely different from "Nobody Like U," being a sad song about loss and heartbreak. In all honesty, I barely even knew this was a new song created by the duo for "Turning Red," as only the intro and a bit of the chorus were featured in the movie. However, after having looked it up and listened to it, I can say that the main vocals by Jordan Fisher are really well done. His voice wonderfully hits the high notes in the song in a nice falsetto. Also, after the first chorus, I was surprised as the vocals and piano arrangement shifted to a heavy guitar and a thumping drumbeat, strongly intensifying the song while the vocals become more powerful. And due to this change-up alone, I really grew to like this song and its conveyance of the volatility of heartbreak as it goes from a soft ballad to a rocking and passionate unloading of emotion.
The final song by Eilish and O'Connell for "Turning Red" is "U Know What's Up," which is another upbeat boy band song that draws from the early 2000s. Similar to "Nobody Like U," this song was featured a number of times in the actual movie, most notably being played when Mei and her friends are profiting off of their schoolmates' love for the panda (aka "U Know What's Up – The Panda Hustle Version"), and also when the 4*Town members perform in concert. However, unlike the other two songs, "U Know What's Up" is almost entirely played through in the movie over its two versions, with its catchy chorus repeating the phrase "I did it on my o-o-o-o-own" to great effect and the bridge's call-and-response sequence of "You want it? (I want it)" adding to the overall poppy energy of the song. While it may not be the most memorable or popular song in the movie—"Nobody Like U" takes that crown—it's still a really fun tune that stands as a testament to the slavish recreation that Eilish and O'Connell have made of the late '90s and early 2000s sound.
Moving on to the score for "Turning Red," I was blown away by how well Göransson captured all of the aspects that make this movie unique; namely, that it centers around an adolescent protagonist who is Chinese-Canadian. The resulting score comprises a whole slew of genres ranging from boy band beats, traditional Chinese music and more Western hip-hop, along with orchestral sounds. In total, Göransson produced around 20 new songs, encompassing all of these features and blending music styles together to create some truly unique, fusional music. 
Some notable mentions include the opening music to the movie, entitled "Family," which solely uses Chinese instruments to underscore Mei's narration of what is most important in her conservative family: honoring one's parents. Following this, the song "Turning Red" plays over the title cards in the beginning of the movie, combining an upbeat electronic sound via the spinning of records, a digitally-made bass beat, interspersed vocals, a flute, and much more. The flute is actually quite fitting since Mei plays a flute in her school band. Moving on to probably my favorite song of the score, "Temple Duties" plays while Mei and her mother, Ming, clean up their family temple at the end of day. This song is a perfect example of the masterful blending of styles that Göransson pulled off in this movie, since it combines Chinese instruments with an aesthetically pleasing hip-hop vibe. Finally, the last song I want to mention is "Pandas Unite / Nobody Like U (Reprise)," which is from when all the characters are singing in the stadium to help Mei's family with the Red Moon ritual. It's fitting that this song is near the end of the movie, because it's here where Göransson pulls out all of the stops by brilliantly orchestrating an overlay of the "Red Moon Ritual" song with "Nobody Like U" towards the end of the track. The resulting piece is a skillful combination of the Cantonese ritual matching in step with 4*Town's boy band hit, accentuating the mix of musical genres that Göransson does masterfully.
I can confidently say that I was not expecting to like the soundtrack of "Turning Red" as much as I do. The 4*Town songs are expertly performed and are so catchy and similar to the boy band songs of the era that I've even seen people posting about how the voice talents should actually become a band and do live performances. Similarly, Göransson's score is an artistic triumph that encapsulates the story of the movie so well through the various styles and fusions of music. So, regardless of whether you've even watched the movie or not, if you're in the mood for something with Y2K boy band vibes and an East-West hip-hop fusion, checking out the official album to Disney-Pixar's "Turning Red" might cause a reaction of all out panda-monium.