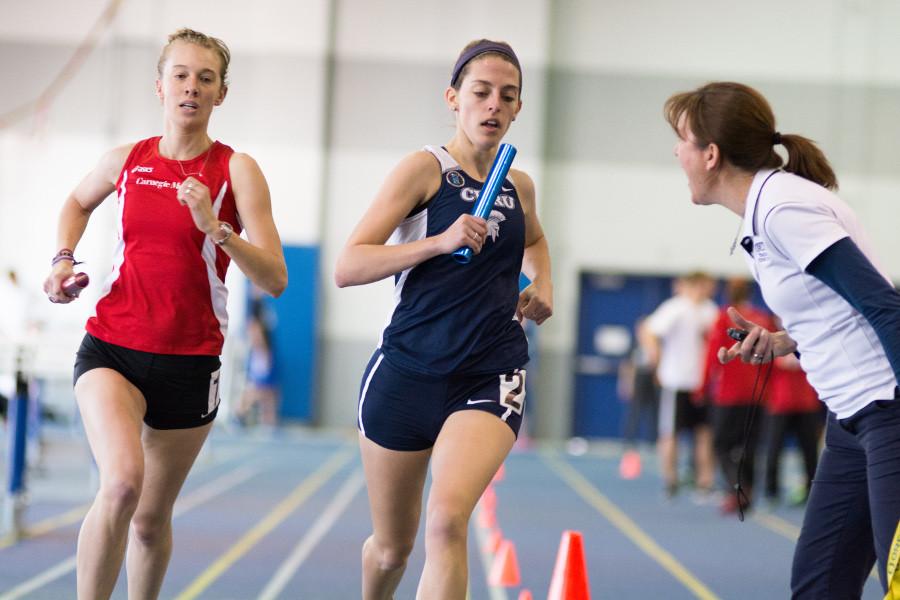 Andrew Hodowanec / Observer
In their second meet of the season, both the Case Western Reserve University men's and women's track and field teams finished in first place at the Defiance Invitational meet on Saturday.
The Spartans were led by a pair of record breaking performances. The men were led by first-year student and sprinter Rasheed Ajala. Ajala broke his own CWRU program record, which he set in the Early Bird Meet hosted by Mount Union, an unscored meet at the end of last semester. Ajala was able to finish his 60-meter dash in a time of 7.16, beating his CWRU record by 0.06 seconds.
The women's record breaker was thrower and third-year student Temi Omilabu who tossed her shot put a whopping 16.54-m breaking her record from the same Mount Union meet of 16.35-m.
Beyond that the women's team raced to victory with the dual victory of second-year student and sprinter Skylar Braga, who finished first in the 60-meter dash posting a time of 8.09. She also won the 200-meter dash with a time of 27.30. First-year student Olivia Newman came in second to Braga in the 200-meter dash and picked up the victory for the Spartans first in the 400-meter dash with a time of 1:01.03.
Off the track the Spartans had another first place finish in fourth-year student Emily Harker, who won the high jump with a height of 1.50 meters, in addition to Omilabu's record breaking throw.
In addition to Ajala the Spartans rode the first place finishes of third-year student Nathan Wahner who produced first place finishes in both the 200-meter and the 400-meter dashes with times of 23.23 and 51.22 respectfully.
The CWRU men followed up those performances with four more first place finishes. Third-year student Joe Ledger won the 800-meter run in a time of 1:59.86. In long distance, second-year student Aidan DeSanto won the 1-mile in a mere 4:29.37. The final individual win came from fourth-year student Jared Brucker who won the pole-vault, clearing the bar at a height of 3.95-meters. The Spartans tacked on a team victory with their record holding 4×400-meter relay team. Ledger and Wahner were joined by fourth-year student Devon Belew, and first-year student Joseph Cabrall in the relay and finished with a time of 3:29.98.
The Spartans' next meet will be the ninth Annual Battle for the Obelisk against archrival Carnegie Mellon University, at home on Jan. 30 at 2 p.m. This will the Spartans' first meet on their brand-new track at Veale Center.