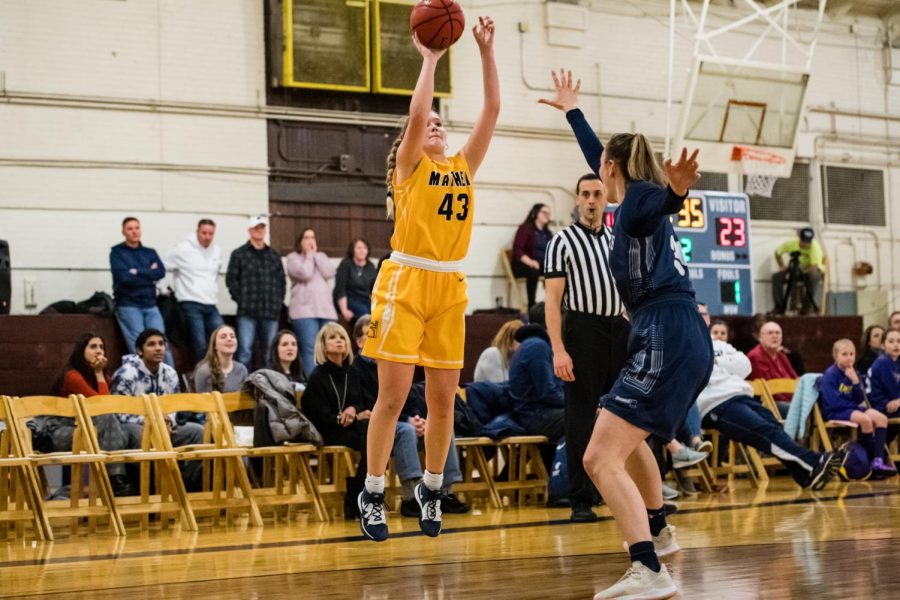 Naji Saker
Donning the Mather College Yellow, the Case Western Reserve University women's basketball team dropped both games during the Throwback Weekend, falling to Brandeis University 80-71 and New York University 64-55. 
Against Brandeis, both teams struggled to make shots early. CWRU got on the board early, leading 10-7 partially due first-year Isabella Mills making consecutive threes. Brandeis' swing motion offense got the team a lot of open looks and free drives resulting in multiple layups and free throws, giving them a 21-15 lead at the end of the quarter. 
With the Spartans trailing 32-25 with 50 seconds left in the second, fourth-year Kendall McConico made a pair of free throws, followed by second-year Abbey Lawrence adding a three, getting the Spartans back in the game and ending the second quarter at 36-30. Brandeis returned to their offensive groove, attacking the basket and going on a 11-point streak. First-year guard McKenna Gross scored six points on her own to pull the score closer, to 47-36 in favor of Brandeis. The Spartans attacked the basket more to mount a comeback in the fourth, but the closest they would come was 70-63, after a layup by Lawrence with a minute and half remaining in the game. Brandeis ran down the clock and sealed the win. Lawrence led the team with 16 points, six assists and five rebounds, while Mills added 13 points and nine rebounds and McConico tacked on 10 points and nine rebounds.
Looking to salvage one win at home during Throwback Weekend, the Spartans intensely traded baskets with the New York University Violets in the early minutes. The game broke open after a three by Mills and a pair of free throws by second-year guard Alyssa Hyland, giving the Spartans a 25-19 lead. NYU battled back, but another three by Mills and a layup by graduate student Melissa Heath kept the Spartans ahead 30-26 heading to halftime. NYU went on a 10-2 run to start the second half, making consecutive three-pointers. After a timeout, CWRU continued to attack the basket, lead by McConico and Heath's combined for 13 points in the third period. However, it was not enough, as NYU expanded the lead with a 13-2 run in the fourth period, due to the Spartans missing multiple threes and committing numerous turnovers. Lawrence brought the game within three with a clutch three pointer with two and half minutes left in regulation. After a timeout, NYU grabbed a crucial offensive rebound and made three more points, sealing the win. Heath led the Spartans with 15 points and seven rebounds. 
With a record of 10-10 (5-4 in UAA), the Spartans will be heading on the road against familiar UAA foes, taking on Washington University of St. Louis on Friday Feb. 14, and then battling the 24th ranked University of Chicago on Sunday Feb. 16.