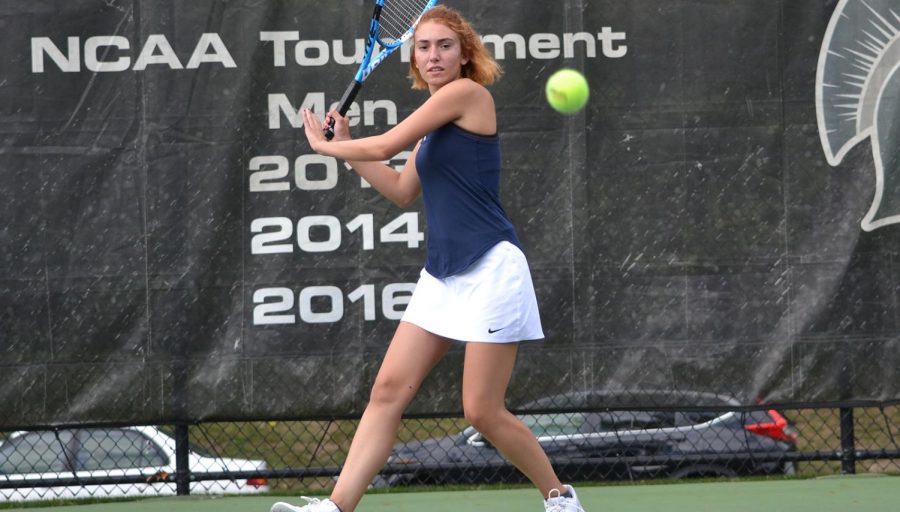 The women's tennis team traveled to Florida for their spring break trip, where they competed against six opponents, securing four wins and suffering two losses.
The Spartans kicked off the trip with a win against Aquinas College on March 10. The day started with doubles contests. The Spartans claimed wins in two of the three matches, giving the women a strong start to the match. Second-year teammates Madeleine Paolucci and Nicole Cardwell contributed to the early lead with their win at first doubles, and first-year Spartans Shreyaa Mukund and Kristin Jones added the second win at third doubles. The Spartans continued their success in singles play, sweeping all six singles contests.
On the next day of their trip, the Spartan women took on Millsaps College, finishing the match with a win. CWRU gained an early lead with two wins in doubles play. Paolucci and Cardwell were able to claim a Spartan win in first doubles for the second day in a row. The other win for CWRU came from third doubles where second-year student Mira Amin and first-year teammate Eliza Georgiades defeated their opponents. Despite a loss at second doubles, the Spartans were up 2-1 heading into singles play.
In singles play, CWRU maintained their strong presence, winning five of the six contests. The wins came from Paolucci at first singles, first-year Spartan Sneha Karnam at second singles and Cardwell at third singles. Amin defeated her opponent at fourth singles and first-year Nidhi Jha claimed victory at fifth singles to round out the Spartan wins. At sixth singles, Mukund fell to her opponent, but the Spartans had already secured the win for the day. The match ended 7-2.
The next match of the trip occurred the following day when CWRU faced No. 7 Wesleyan University. The competition proved tough, and the day ended in a 9-0 loss for the Spartans. The team put the loss behind them the next day, facing two more opponents for the last two matches of the trip. CWRU claimed the win against Austin College but fell to No. 3 Amherst College.
The day started on a low note, when the team was defeated by Amherst 8-1. The lone win came from Paolucci at first singles. The Spartans did not let the loss discourage them in their following match against Austin. The Spartans came out strong with wins by the first-year duos of Karnam and Georgiades at second doubles and Mukund and Jones at third doubles. Paolucci and Amin fell to their opponents at first doubles, but the Spartans had the advantage heading into singles play. The Spartans continued on strongly, sweeping the six singles contests and claiming the win.
The end of the spring break trip brought the Spartans' overall record to 5-4 for the season. The women will return to action on March 29 when the Spartans will be facing Kenyon College on the road.