September 18, 2015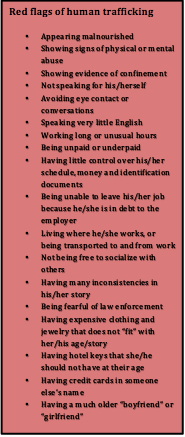 In recent years, Ohio has made more of a push for anti-trafficking laws, resulting in identification of 181 victims and arrests of 98 traffickers in 2014. Of those 98 arrests, 17 have led to convictions, according to a report from the office of  Attorney General Mike DeWine.
House Bill 262, Ohio's Safe Harbor Law, laid out a three-pronged approach to the issue: recategorizing the crime as a first-degree felony, raising the mandatory minimum sentence to 10-15 years; beginning a diversion program for juvenile victims to get protection and treatment through the juvenile justice system; and expunging the records of adult victims with prior convictions of prostitution and solicitation.
"In the past, the victim may have been arrested and charged with prostitution," said Miller. "They were treated as a criminal without understanding that they may have been coerced into participating in the sex trade against their will."
"The Cuyahoga County court system is really on the forefront of some of this," said Gran. "People used to be charged with prostitution and treated as a juvenile offender. Now they are understood as a victim."
Also in 2012, the office of Governor John Kasich formed the Ohio Human Trafficking Task Force, which brought together members of 11 state agencies, ranging from education to medicine to cosmetology, to create a plan of action for the government.
According to Gran, law enforcement is now stronger at the state level, where police officers know the signs of trafficking. Additionally, officers are increasingly communicating with schools and administrators to gain more insight.