Blue CWRU, the Spartan spirit solution
September 17, 2015
Walking into Horsburgh Gymnasium for the Wednesday night matchup between the Spartans and the visiting Mt. Union Raiders, there's something different.
A student runs by in a Case Western Reserve University cape; another two greet you at a table right next to the door. As one of the first 25 students present tonight, I am handed a free t-shirt. While walking through the door, you can feel the energy building for the upcoming matchup. The volleyball squad is trying to extend their season-starting winning streak to 10; yet the energy is not only coming from the court, but also from the stands. This is new, this is different and this is the goal of Blue CWRU.
Started during the 2014-2015 athletic school year, the Blue CWRU organization seeks to promote school spirit built through a sports lens.
"When you walk around campus there is no unified school spirit," said third-year student Gabriel Murcia, the current vice president and cofounder of Blue CWRU. "People don't really have Spartan shirts to wear. There isn't the spirit you see at other schools."  
"We have two goals: build school spirit through athletics and give students spirit apparel to wear," said third-year student Kevin Dong, the president and cofounder.
Even after one event so far this year they are starting to turn the page.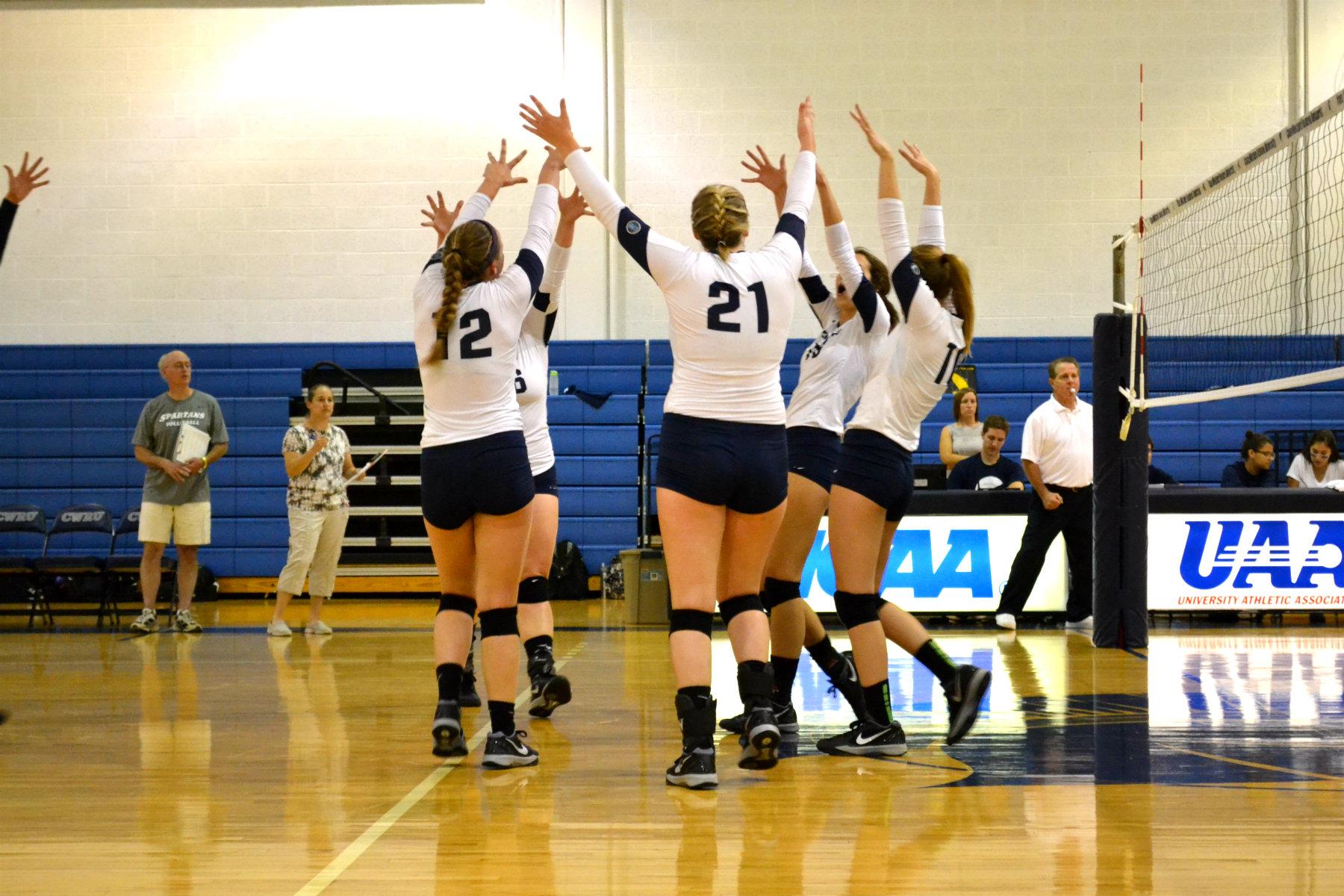 There is a mentality that CWRU lacks a sports culture due to the academic rigor of the school.
"Ask 100 students why there is no sports school spirit and 90 will tell you that it is we are just a nerdy school," said Murcia.
According to the founders of Blue CWRU, this is a misconception. Just because CWRU is not on the same athletic level as Ohio State University, Duke University or any other large school does not mean that CWRU can't have the same level of school spirit, even when it comes to athletics.
On a trip to Carnegie Mellon University (CMU) for an away tennis match, the Blue CWRU founders realized that this notion was highly inaccurate. While their team battled with the rival Tartans they noticed that the court was surrounded by dozens of spectators, cheering on the CMU squad.
These spectators weren't simply the immediate family and friends of their opponents but at large they were fellow students, wearing CMU gear and stopping by after class to root on their Tartan athletes. Dong estimated that there were 200 students at the tennis match. The unified expression of school spirit was overwhelming at a sport which often receives very little attention. There was something different.
"We realized the difference was not just physical," said Dong. "It was also visual."
The realization that there was athletic school spirit at an institution similar to CWRU convinced Dong and Murcia to bring a similar program to campus. That program is Blue CWRU.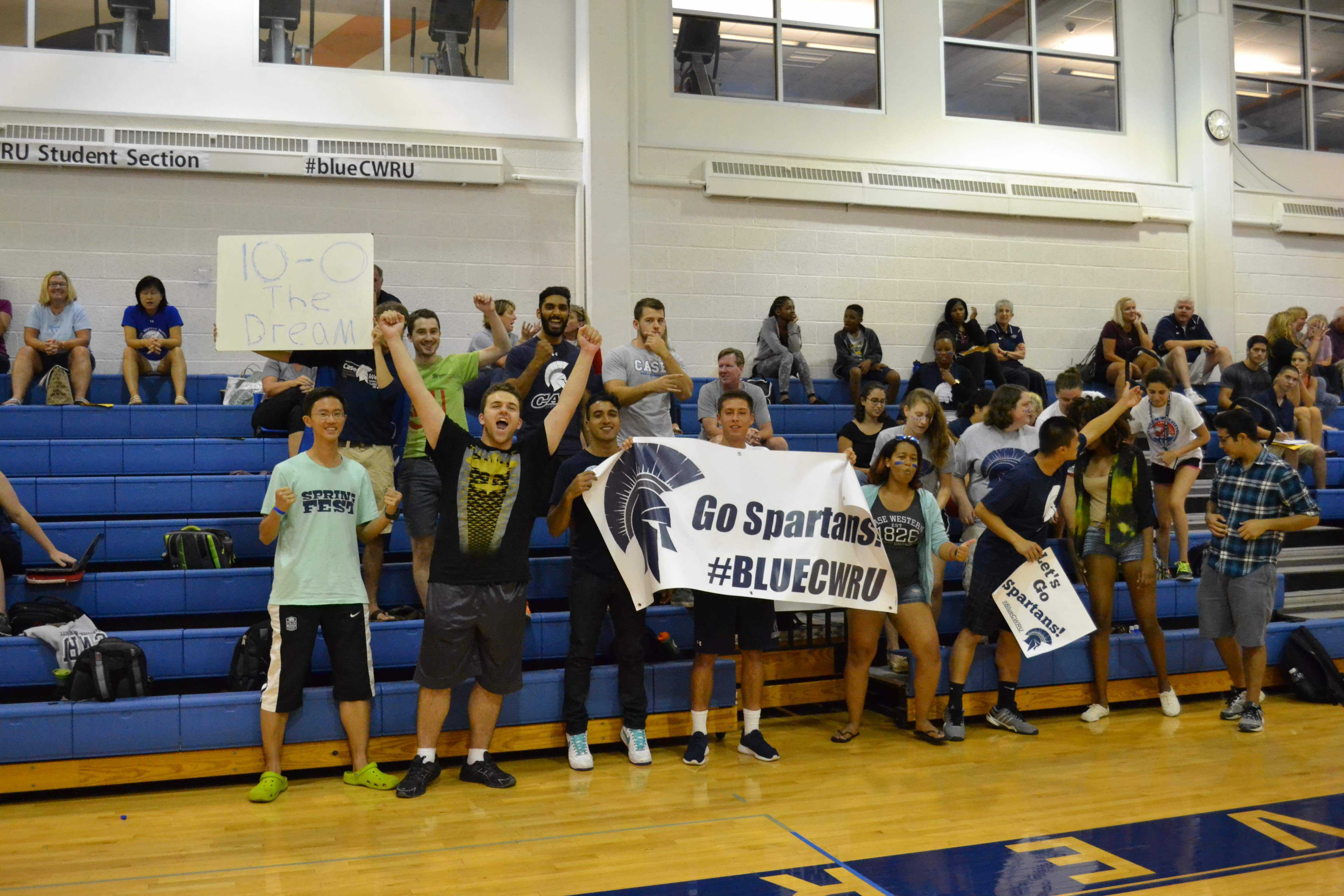 "C-A-S-E, Case, Case, Case!"
Chants bellow out of the small but energized group of students in the front row of the gymnasium. Blue CWRU kicked off their first full school year of spirit on Wednesday night as the Spartan volleyball squad put away the Mt. Union Raiders in three straight sets.
"We asked a few of the members of the volleyball team which game would be the most important for them to have a big presence at," said Dong. "They said this one was super important because of their rival, Mt. Union. So we made sure we were going to be there."
This first event brought together a small but passionate group of 30 students to cheer and support the action on the court.
As the first set battled to a thrilling 27-25 win for the Spartans, the crowd cheered louder and harder, spurred by the founding members of Blue CWRU, wearing face paint, waving signs, jumping and screaming at the top of their lungs.
"The signs, the giveaways and the face paint are going to be our bread and butter," said Murcia. "We want to make this support for the athletes to become part of the culture here."
Murcia often talked about what could be done to improve campus with his friends and he slowly realized that it would often come back to the subject of school spirit.
"We came up with this insane plan," said Murcia. "We wanted to turn Case from a DIII school into a DI school."
Murcia and his friends were so serious about their idea that they set up a meeting with CWRU athletic director Amy Backus. While she admired their passion she noted that a change of that magnitude would require the Board of Trustees.
The discussion eventually made its way to the idea of a group solely focused on spirit through sports. As a result, Blue CWRU was born, adopting the branding already in place by the athletic department and creating a group to build that spirit.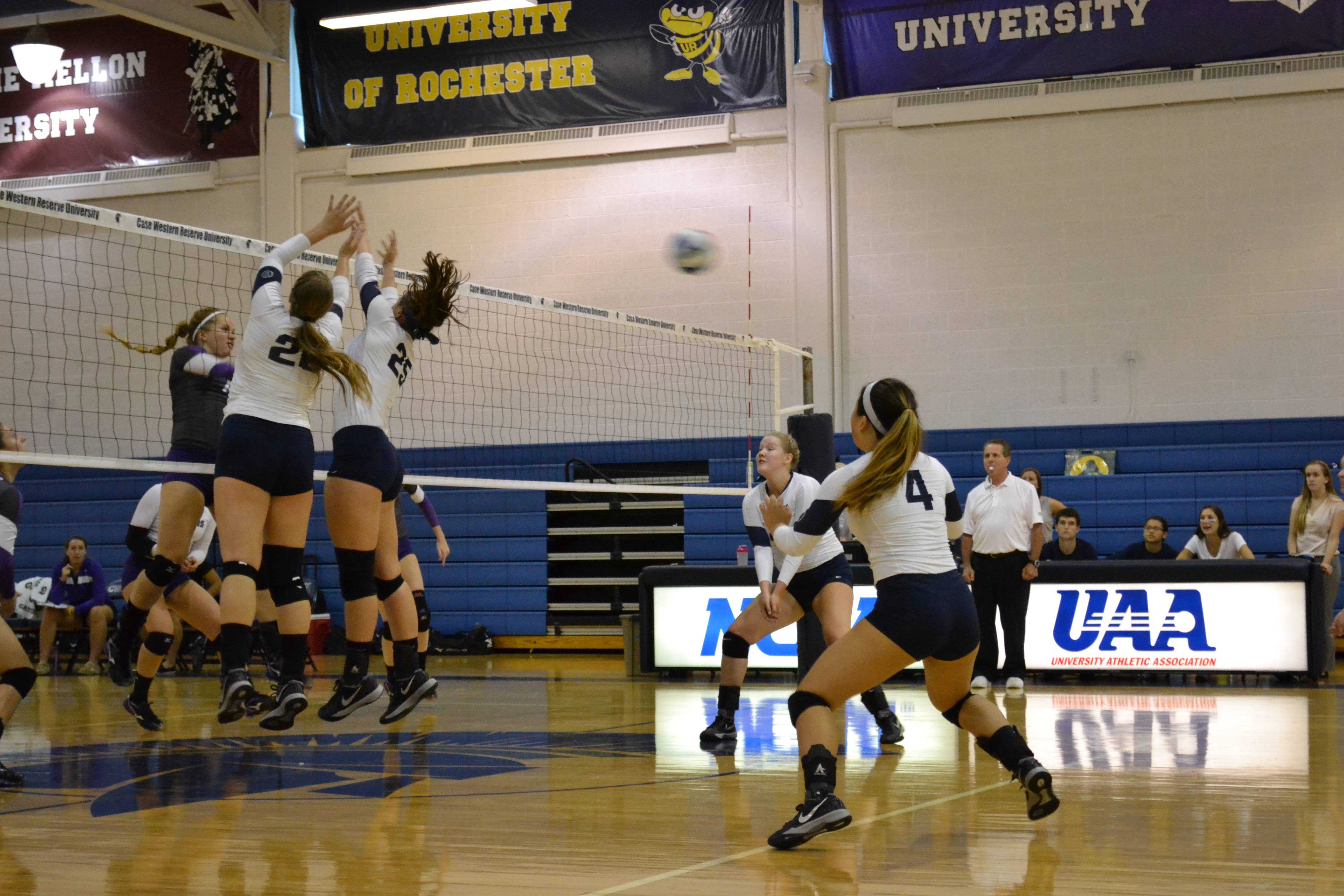 Multiple organizations have tried to fill the stands at games. The Case Association of Student Athletes (CASA), the Athletics Department, even the University Programing Board have all put on events to build school spirit. Additionally, a now defunct club, the 300 Club, used to be on campus and tried to ensure that 300 students were at each game, event, program and show that happened on campus. All have been rather unsuccessful at getting fans in the stands.
"We think those institutions have been unsuccessful because their true purpose isn't to build spirit," said Murcia. "They have other purposes that they are really good at and focused on."
The founders of Blue CWRU point to a lack of infrastructure specifically to bring students to sporting events and build a unifying school spirit as the reason for the decline of attendance at games overall.
"All of those organizations have simply noticed the problem and tried to do things to fix it," said Murica.
"It isn't done directly," said Dong. "CASA has done events but it isn't part of their mission statement. They are there to support the student athletes."
Now Blue CWRU has taken up that responsibility.
"We kinda see ourselves as the student-run marketing branch of the athletics department," said Murcia.
"We want to try and galvanize the students," said Armaan Hasan, another founding member of Blue CWRU and former Vice President. "It is really about putting in the effort to just building that spirit."
By getting students into the stands, the group believes that they can start a self-perpetuating chain reaction of school spirit. Through experience with organizations like the Class Officer Collective and CASA, the founding members were able to realize what the student organization climate was like on campus and realized this special need for building spirit through athletics.
This simple premise proved harder than the founding members thought.
"We jumped into doing this during the middle of last year's basketball season," said Murcia.
Jumping in mid-season while also learning how to establish an organization led to some miscues. There was worry that you couldn't feel the presence of Blue CWRU at the first event. There was no give away like they were planning, the face paint they bought for the game went unused.
"I was honestly surprised the first game went as well as it did," said Hasan.
However the showing of support was extremely high for the young club. With a small core group of 50 students already attending home basketball games, bringing in another 50 and increasing the energy was a reachable goal.
"We realized that we had a lot of potential to make this into what we really wanted," said Dong. "The six of us worked really hard last year to get to this point."
The six founding executive members, Dong, Murica, and Hasan along with third-years Zech Medved, Taylor Moran and Louis Jin have led the organization to its current position.
"The goal is for new students on campus to think we are a 20-year-old established group on this campus," said Murcia.

Blue CWRU has hit the ground sprinting this semester as they work towards their goal. This Saturday, Sept. 19 the group will be cheering on the CWRU football team as they take on the St. Vincent Bearcats in this season's home opener. They will be following up the week of cheering and supporting the teams with three more planned games to attend so far this year.
The Blue CWRU will be out in force at the Oct. 10 homecoming game, the men and women's Soccer team's doubleheader against arch rival Carnegie Mellon and finally the basketball home opener for both the men and women's squad on Nov. 17.
However their biggest event this year, what the organization is most excited about is their "Fire Sale," occurring Sept. 26 in the Tinkham Veale University Center. In conjunction with the athletics department the group will be selling off a huge supply of CWRU spirit wear and athletic wear for student friendly prices.
These items were bought before the school rebranded their teams to the navy and grey CWRU look from the old designs of blue and white with the Case moniker. These items will be sold for between $1.00 and $5.00.
"We want to flood the market," said Murcia. "There should be no reason that students don't have clothing to express that spirit."
In the future, the group sees this as a way for the student body to connect, not only to their athletic teams but also to each other. They see alumni wanting to come back and cheer on the Spartans. They want both academics and athletics to coexist.
"We want people to walk campus and see the Spartan logo all over, have people wearing CWRU gear and be able to see the spirit," said Murcia.