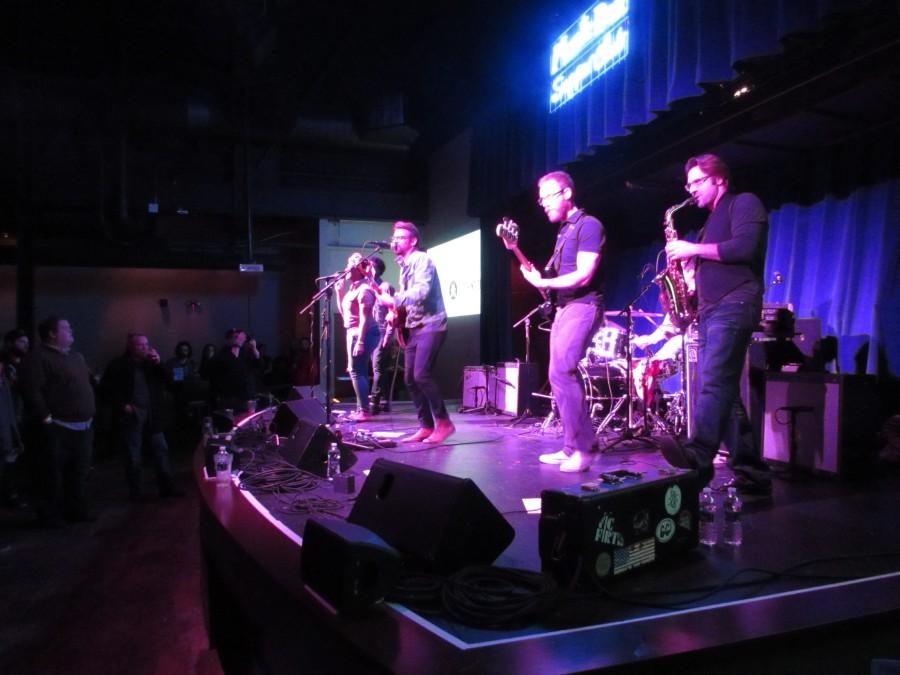 Cities & Coasts see packed crowd
February 26, 2016
Cities & Coasts took the stage at Music Box Supper Club at the same time national headliner The Mowgli's strummed their first chords on the main stage outside.
That said, it would have been incorrect to think they'd have a small audience.
While most of Brite Winter's attendees were at The Mowgli's show, crowds still packed the Music Box for Cities & Coasts' throwback 60's feel; the line just to get into the building was out the door and down the parking lot, regulated by a security guard at the entrance.
Once inside at the Music Box Supper Club's upstairs Concert Hall, the audience sat at tables or stood in front of the band, bobbing slowly to the tunes.
Cities & Coasts ambled through songs "Postcards from the Great Lakes" and "Summer Is Over," as fans standing near the back wall whistled loudly. It felt like springtime already as their summery rock overtook the heated room.
Last year, Cities & Coasts performed to a packed-in audience in a venue that was too small to accommodate its fan base. Singer and guitarist Nathan Hedges voiced excitement about Brite Winter's changes and movement forward this year, but was even more excited about concertgoers' excitement.
"The best part for me is how far Cleveland has come as a community that supports music and art," said Hedges. "We have all been playing music a long time in Cleveland and the energy that the people have right now embracing the scene and the city is amazing; we have never seen it before."