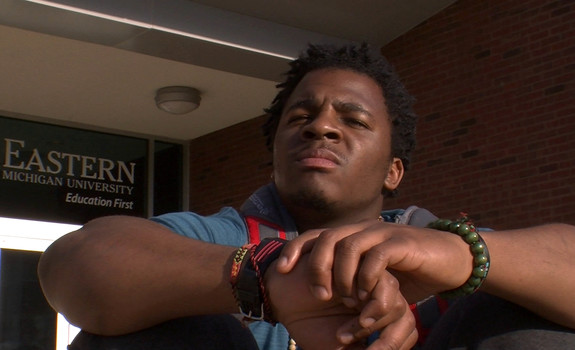 "Finding the Gold Within," film, screened in Strosacker
November 20, 2015
The Social Justice Institute Think Tank commenced Thursday, Nov. 12, as about 100 people gathered in Strosacker Auditorium to watch Karina Epperlein's feature-length documentary, "Finding the Gold Within." CWRU Film Society and the Social Justice Institute transformed the large lecture hall to an intimate movie theater, selling snacks and greeting audience members as they entered.
The documentary followed six black young men from Akron, Ohio: Brandyn Costa, Stacee Starr, Imani Scruggs, Tyler Jones, Darius Simpson, and Shawntrail Smith as they navigated their college experiences.  The documentary also focused on their participation in the intimate circle of Alchemy Inc from sixth grade to the present.
"Alchemy, Inc. and its leaders have been working in the school system in the Cleveland area, mentoring young black urban youth from middle through high school," read the event's program.  "Exploring ancient stories from diverse cultures, as well as drumming and writing, this innovative program gives the youth a chance to grow into self-knowledge, discipline and confidence."
Three of the film's protagonists, Simpson, Costa and Scruggs, who is a current social work student in the Mandel School of Applied Social Sciences, were present in the audience and hosted a question and answer session immediately after the film.
During the discussion, the three men updated the audience on their lives and endeavors since the documentary was completed.  It was clear that the film elicited strong sentiments of support for the three men and as they stood on the stage, Strosacker transformed once again, this time from a movie theater to a community support network.
One woman in the audience commented, "Akron should be proud of you."
Another audience member added, "I appreciate that you are taking a stand to be yourself."  
Other audience members offered the men advice, while some wanted to know how to help expand the Alchemy Inc program.
As Costa, Starr and Scruggs candidly engaged with the audience, they drew examples from the myths they learned in Alchemy Inc, eagerly sharing the wisdom that had been once shared with them.  
The night concluded with an impromptu spoken word performance by Simpson titled, "Letter to My Unborn Son," which received a standing ovation.