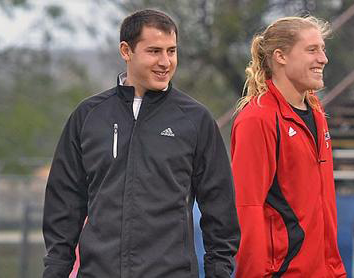 Former Ohio Wesleyan assistant is program's fourth ever head coach
Case Western Reserve University Director of Athletics Dave Diles has announced the hiring of Brandon Bianco as just the fourth head coach in the history of Spartan men's soccer. A National Soccer Coaches Association Great Lakes Region Assistant Coach of the Year, Bianco spent the past five seasons at Ohio Wesleyan University where he helped the Battling Bishops to the 2011 NCAA Championship.
"To say that we are excited to have Brandon join our department and university would be an understatement," said Diles. "Brandon's experience at Ohio Wesleyan as a player, assistant coach, and associate head coach provide exceptional preparation. Brandon detailed a comprehensive plan for advancing our program, and his vision for CWRU men's soccer was compelling. I'm looking forward to working with him, and I know he will be a great fit for our university and the University Athletic Association."
Bianco takes over for ninth-year head coach Dan Palmer who stepped down to become the women's head coach at Oberlin College. At Case, Palmer compiled an 87-65-16 record with two University Athletic Association Championships and a pair of NCAA Championship Tournament appearances. His program produced four All-Americans and a two-time University Athletic Association Most Valuable Player.
Bianco joined the coaching staff at his alma mater in 2008 and was promoted to associate head coach by legendary Head Coach Jay Martin in 2012. Bianco assisted with all facets of the program, including recruiting, scouting, travel, budgeting, and training preparation.
During his tenure, Ohio Wesleyan compiled an unbelievable 91-14-20 overall record with five North Coast Athletic Conference Championships and two NCAC Tournament titles. In addition to winning the 2011 Division III National Championship, the team also qualified for the NCAA Tournament in all five seasons and achieved an NSCAA No. 1 national ranking.
"First and foremost, I'm extremely humbled and excited to be the next head coach for Spartan men's soccer," said Bianco. "I want to thank Dr. Diles and the search committee for all of their hard work and diligence throughout the hiring process. Everyone I've talked to has been a great representative for Case Western Reserve, and it's clearly a great time to be at Case. I'm looking forward to working with our student-athletes, both current and future, to build one of the best academic and athletic environments in Division III."
As a player at OWU, Bianco was a four-year letterwinner at midfielder and an All-NCAC Second Team selection in 2006 for a squad that advanced to the NCAA Championship Final Four.
He graduated in 2007 with a Bachelor of Arts degree in Health and Human Kinetics then coached for one season at the club level with the Olentangy Classics.
Bianco and his wife, Brittany, plan to relocate to the Cleveland area. Bianco is also expected to begin his duties at CWRU in early May.
Over the past nine seasons, the CWRU men's soccer team has posted an 87-65-16 record with two UAA Championships and a pair of NCAA Tournament berths. The Spartans also excel in the classroom with six Capital One Academic All-Americans® during that span and the NSCAA Team Academic Award in each of the past nine seasons.