Englander annouces changes to end of season schedule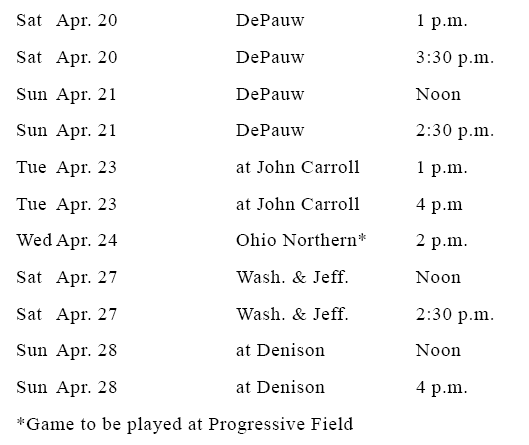 Case hosts ONU at Progressive Field, Wednesday April 24, at 2 p.m.
With a very busy week on the horizon for his team, Case Western Reserve University baseball Head Coach Matt Englander has announced several changes to this week's schedule.
Overall, the team will play six home games this week, beginning with a Wednesday, April 17, home doubleheader versus Oberlin College at 1 p.m. The games were originally scheduled for last Wednesday, April 10, but postponed due to rain. The initial make-up plan had been for Tuesday, April 16.
As a result, Wednesday's originally scheduled single game at home versus local-rival John Carroll University will be played as part of a doubleheader on the road next Tuesday, April 23.
The Spartans have also locked down the details of their annual game at Progressive Field. Case will host Ohio Northern at the Cleveland Indians home stadium on Wednesday at 2 p.m. Tickets are free, but must be acquired ahead of time. Tickets can be downloaded from the Case Athletics website.
In addition to this Wednesday's DH with Oberlin, the Spartans will still play a four-game weekend series with DePauw University on Saturday and Sunday, April 20-21 at Nobby's Ballpark.
The reigning University Athletic Association Champion Spartans (17-8) are fresh off a series win at St. John Fisher College this past weekend and have won 8-of-10 overall. With 17 games remaining on the schedule, the team will look to continue its winning ways and land an at-large berth to the NCAA Mideast Regional in mid-May.