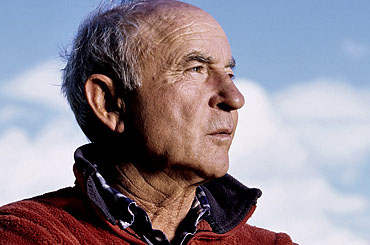 This week, Case Western Reserve University's Inamori Center for Ethics and Excellence announced the recipient of their annual award would be the founder of burgeoning company and environmental enthusiast Yvon Chounard. He is the founder of Patagonia Inc., a privately held clothing company that earned over $340 million in 2010 and is only positioned to make more moving forward.
Chounard will receive the award at the start of the academic school year on Sept. 6. After founding his clothing company in 1972, Chounard has been at the forefront of the environmental movement by pushing his desire for social responsibility through his company.
Shannon French, the director of the Inamori Center, said in a statement this week, "Yvon Chounard's leadership defines corporate social responsibility."
"He has proven that if you prioritize people and the planet, you can still make a profit," the statement continues. And Chounard has in fact prioritized both his 1,400 employees and the planet as a whole.
The company, which was originally founded as a retailer for rock and alpine climbing, commits the greater of one-percent of its annual sales or ten-percent of its profits to environmental efforts. The commitment has led to a cumulative donation of over $46 million to environmental organizations since the company began to institute the program.
In addition, Chounard is the co-founder of the nonprofit organization One Percent for the Planet, which is an organization of both large and small businesses that have made the same commitment to donate one-percent of their sales to environmental organizations. The organization, which was founded in 2002, has over 1,000 member companies ranging from small to large companies.
The Common Threads Recycling Program is another program organized by Chounard to stop Patagonia products from ending up in landfills. In a statement to Entrepreneur magazine regarding Common Threads Recycling Program, Chounard said, "In our catalogs, we're going to tell people not to over-consume. Buy what you need, and hopefully it will be a Patagonia product.
But if you're tired of it, we'll help you find another home for it by telling you where it can be sold on eBay or given away."
He continued, "It forces us to make products that don't wear out, but by taking this risk, it will make it easier to take business from our competitors in the end."
The 74 year-old rock climber and businessman also has demonstrated a commitment to his employees by offering dynamic programs that both help the environment and company morale.
In a special program for employees, Patagonia Inc. members are allowed to take up to two months off of paid leave to work on environmental endeavors anywhere in the world. Over 700 employees have already participated in the program.
In addition, employees at the company's headquarters in Venture, CA are allowed to leave at any time to take a break and go surfing. The company has appeared on Fortune's coveted list of the best companies to work for.