Lost State of Franklin Finds Its Way to Wade Oval
Wade Oval Wednesday's (WOW) most recent concert picked up the summer heat with Lost State of Franklin's energetic performance.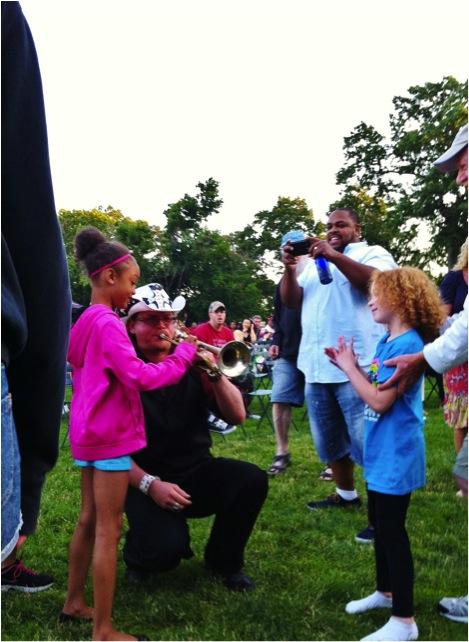 Described as a mix of Americana, rock, and country, I expected a very rural, hillbilly-ish style from Lost State of Franklin. However, their fusion of musical genres and variety of pace was a pleasant surprise. It kept the audience waiting to see what the band would do next and how they could bring something new to the stage.
Their original song "Clint Eastwood" was bouncy and very Western, including a moment when upright bassist Jeremy Cottrell spat out some country free-style verse. Then, lead singer J. Scott Franklin replaced his guitar with a trumpet for a jazzy run of "Jump, Jive, and Wail." Later, drummer Tyler Postma sang a sultry jazz song, her soft drumming and bluesy beat bringing something darker to the mix.
Fellow concertgoer Jacob Adams was very impressed with Lost State of Franklin's style. "Very American, good melodies, and a cute drummer," said Adams.
Cottrell carried the band through each song with a steady, plodding "bum, bum" bass rhythm. At points, the band seemed almost New Orleanian. Everything they played was spiced up with something signature and unique, but still flexible enough to wrap around their variety of musical choice.
Lost State of Franklin seemed like they could really play anything, and the crowd, almost twice as large as last week's WOW, jived along.
Everywhere, families were sprawled out on picnic blankets in the grass. The sun shone through park-lining trees, and mothers were busy lathering sunscreen on their fidgety children.
At the last WOW concert, concertgoers had to bring an umbrella to be comfortable for Chozen Few Band's show. This week only required a hat or sunglasses. Our seats, which were to the right of the stage, had the sun shining directly behind the band, making it very difficult to see the performers until the sun sunk below the tree line.
A break from the sun did not come around until after intermission, during which a man took the microphone and described the International Folk Festival that will be held at Wade Oval this coming Sunday. After his announcement, several dancers emerged and started dancing to some tribal folk music.
Children gathered and danced as well, but the music's annoyingly repetitive beat soon felt restless. The whole break felt way longer than the five or ten minutes it probably was, just because of the headachy music.
However, Lost State of Franklin soon arrived as the sun left for the second half of their show.
The band performed more covers, including a drawling version of "Sweet Child of Mine" and a bass-centered cover of "These Boots Are Made For Walkin'." Franklin was incredibly talented, picking up a trombone and tapping out keyboard melodies at least a few times.
Later, I should have known what to expect when Franklin said, "We only play this song… when we're in the mood."
Suddenly, this "American Music/ Rock/ Country" band transformed into a jazz ensemble blasting out the most unique cover of "In the Mood." Franklin held a trumpet in one hand, a trombone in his other, juggling between the two with wailing solos. People rushed to the front of the stage, dancing wildly.
At one point, Franklin came down to join the dancing group, asking various people to hold down different buttons of his trumpet while he improvised their individualized solos. The band seemed to lengthen the song based on the uproarious audience response, and eventually the finger-wagging dancers returned to their seats, only to return again so they could square dance to "Ring of Fire."
The band wound down their moving set with some slower songs, and people eventually started filtering out of the park.
Lost State of Franklin knew how to engage a crowd with covers and original songs alike. Their energy, friendliness, and complete disregard for musical barriers made them put the "wow" in WOW.