Outside the Circle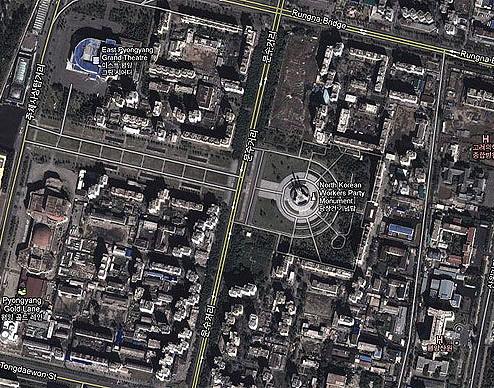 Google Maps releases map of North Korea
On Tuesday, Jan. 29, Google Maps unveiled its map of North Korea.  According to Google, the map of the secretive police state was completed with assistance from "a community of citizen cartographers." Pyongyang, the state capitol, can be seen on the map along with its many landmarks, schools, hotels, and hospitals.
Google Maps users can zoom in and even view four possible gulag sites, labor camps that operated in the Stalin era. There are still many empty areas on the map, but far more detail in the area was introduced this past week. Curtis Melvin, creator of the most definitive public online map, spoke about the importance of Google Maps creating an opportunity for casual viewers to become interested in what North Korea was doing. "North Korea is a serious policy, humanitarian, and security challenge," said Melvin, "and the more information we have, the better."
The sudden availability of the map came about following Defense Commission meeting last week that increased tension between North Korea and the United States. The map was launched three weeks after Google's executive chairman, Eric Schmidt, visited Pyongyang. While on his trip, Schmidt encouraged North Korean officials to allow more North Koreans to use the Internet. Google, however, says that the map launch does not have anything to do with Schmidt's trip.
The "citizen cartographers" contributed to the map by using a crowdsourcing tool called Map Maker. Google is not releasing the names of these contributors. Some public satellite images were also used. In regards to the map posting, an e-mail from Schmidt said, "…there was little public information, and the crowdsourcing is from people from North Korea who are elsewhere. It sheds a bit more light on what is happening in this remote country."
F.D.A. approves new genetic drug
The Food and Drug Administration (F.D.A.) approved a new antisense drug called Kynamro on Jan. 29. Kynamro, invented by Isis Pharmaceuticals, was designed to treat a rare inherited medical disorder called homozygous familial hypercholesterolemia that causes high levels of cholesterol and heart attacks at an early age. The drug works by shutting off specific genes that have been found to cause the disease. Its specific function is to inhibit the action of apolopoprotein B, a gene that assists in the formation of particles that carry cholesterol in the blood.
However, Kynamro is not expected to sell well because it has displayed some concerning side effects, such as possible liver damage, flu-like symptoms, and injection-site reactions, and there are only a few hundred people in the United States who have this genetic disorder.
Since its founding in 1989, Isis Pharmaceuticals has had one other antisense drug approved in 1998, which treated an infection that was associated with AIDS. However, that drug did not sell well and its success in silencing its affected gene was not proven. Stanley Crooke, founder and chief executive of Isis Pharmaceuticals, said that the long wait associated with drugs like Kynamro is not uncommon for new technologies.
"I told people it would be at least 20 years and $2 billion before we knew if the technology would work," said Crooke, "We think it's a seminal day for the technology and the company."
Isis is also currently working on drugs to treat high triglycerides, spinal muscular atrophy, and scarring from surgery.
Even if the drug does not end up making a large profit, its approval by the F.D.A. is a large leap for the field of antisense, or gene silencing. Arthur M. Krieg, chief executive of RaNA Therapeutics, said, "What many people have been waiting for is validation where someone actually makes a profit and where patients actually benefit."
South Korea sends satellite into orbit
South Korea watched their first satellite launch into orbit this past Wednesday, Jan. 30. With this launch, which occurred only seven weeks after North Korea successfully launched a satellite, South Korea was able to join its neighbors as a space technology contender.
The KSLV-1, or Korea Space Launch Vehcile-1, was built with assistance from Russian technology, and weighed a massive 140 tons, standing 108 feet tall. The satellite was launched from the new Naro Space Center in Goheung, South Korea. Wednesday's launch was the third attempt to get KSLV-1 into orbit. The first two attempts, one in 2009 and the other in 2010, ended in failures.
Lee Ju-ho, the government's minister of education, science, and technology announced during a nationally televised news conference that, "after analyzing the data, we determined that our satellite entered its intended orbit. Today, we took a leap forward toward becoming a power in space technology. This is a success for all the people."
KSLV-1 is powered by a liquid-fueled, first-booster stage from Khrunichev, a company in Russia. However, the rest of the satellite, including the solid-fueled second stage, was built by scientists in South Korea. The second stage of the vehicle carries a small "Naro" Science and Technology Satellite-2C, which was built by the Korea Advanced Institute of Science and Technology.
KSLV-1's job over the next year is to gather data on space radiation. Naro is not South Korea's first satellite in orbit, but its other five were launched on foreign rockets. According to The New York Times, by 2021, South Korea hopes to launch a "completely indigenous three-stage, liquid-fueled rocket capable of carrying a 1.5-ton payload into orbit."
ODOT Worker Praised as Hero
Thursday, Jan. 31, saw Ohio Department of Transportation (ODOT) Highway Technician, George Seambos, receive praise for going above and beyond to protect the citizens of Ohio. At 2:30 a.m. on Jan. 26, Seambos was patrolling the streets of U.S. Route 23 for snow and ice. While he was driving, he saw headlights coming towards him in a one-way lane.
Seambos put on his flashers to warn the other cars around him, and he placed his snow plow in a position that would not allow the driver to pass through. Seambos then called 911 and followed the driver until police could arrive. The driver was then charged with operation of a vehicle while under the influence.
ODOT Director, Jerry Wray, said, "Every day, ODOT employees do amazing things, but what George did for everyone on the road that night is beyond amazing. We will never know if his actions avoided a tragedy on Ohio's roads that night, but what we do know is George had the courage to do something you don't see outlined in any policy manual. He used his gut instincts and quite possibly saved human lives as a result."