Runners brave hail and rain for hole in the wall camps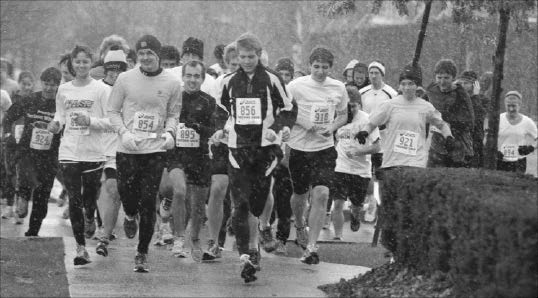 Despite the harsh cold and freezing rain, 88 participants ran the 5K race and helped Case Western Reserve University's Phi Kappa Tau fraternity raise over $2600 for its charity, Hole in the Wall Camps, at the tenth annual Phi K this past Saturday Nov. 6. The fraternity strategically places the Phi K on Family Weekend every year to attract as many runners as possible, most of which were either students, relatives of students, or alumni. Graduate student Christopher Peverada won the race, setting a new course record with a time of 16:03. CWRU alumnus Jackie Goodrich was the women's winner with a time of 19:52.
Event co-chairs Steven Binzel, Josh Yeske, and Joe Herzig led the fraternity in planning this year's race. The current course encompasses much of the North side of campus and has been used for the past five years. Binzel joked that planners of the Homecoming 5K, first run in 2009, borrowed the fraternity's idea, as it uses the same course
Most of the Phi K's planning is dedicated to fundraising. The fraternity uses those funds to buy things like race numbers, chalk for marking the course, and other various essentials. All of this year's entrants received a raffle ticket for prizes like an iPod and gift cards to local restaurants. Yeske noted that local businesses like Chipotle and Rocky Mountain Chocolate also donated money for the event.
According to Binzel, Phi Kappa Tau decided to make its philanthropy event a 5K in 2000 because many brothers were on the cross country and track teams at the time. Binzel, a senior chemical engineering major, also shared the story behind Phi Kappa Tau's affiliation with Hole in the Wall Camps. The fraternity's philanthropy efforts benefit the organization because Paul Newman, its founder, was a Phi Kappa Tau brother during his college days at Ohio University. (A portion of all purchases of Newman's popular food products also go to his foundation.) Newman founded the organization in 1988. The week-long camps host children ages 7-16 who have terminal illnesses. Hole in the Wall is viewed as highly beneficial for the children. " It provides them with a classic summer camp experience and gives them a chance to just be kids," Binzel said.
Due to the children's often fragile condition, there must always be medical specialists on hand. In order to facilitate that aspect, there are rotations of weeks for kids who suffer from specific illnesses. Each camp operates for ten weeks each summer. CWRU's Phi Kappa Tau chapter donates to Boggy Creek camp, located in Eustis, Florida. Chapter president Craig Becker had the opportunity to volunteer at Boggy Creek this past summer. He worked at the camp from June 28 to July 3. He and one other volunteer teamed up with seven full-time staff members to work with thirteen kids. Each volunteer was responsible for one cabin. His work was based on the organization's mission of providing campers with fun experiences and building confidence to cope with their illnesses. "[The counselors] basically do anything the kids want you to. You're there to play with the kids and have fun with them," Becker said.
The volunteers and campers engage in many activities like arts and crafts, fishing, archery, and even equestrian programs. Kids at Boggy Creek enjoy archery because of the reward system involved. "If they hit a target they get to dump water on the counselors. Naturally they hit a lot of targets," Becker joked. He said it was such a transformative experience for both the counselors and the campers. "By the end of the week, you forget that the kids are even sick."