The Buzz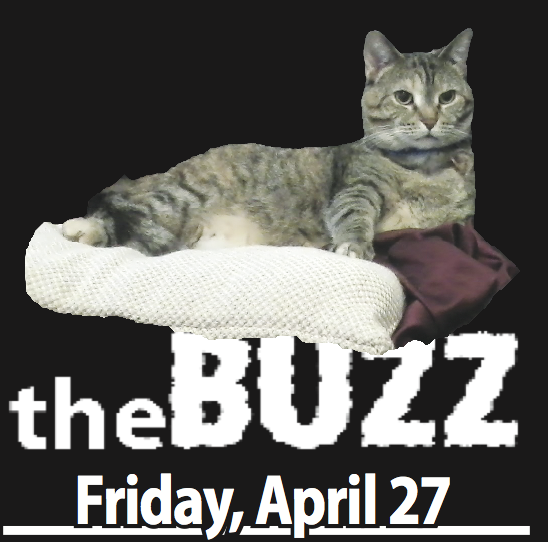 Friday April 27
What: Case Western Reserve University's Players Theatre Group (PTG) Presents the New PlayWrights Festival. PTG will be staging one-acts written by students, including the sequel to the infamous Banana Beard. Submissions are open to all students on campus, and will feature a "talk back" section during which students and faculty can comment on the scripts presented.
When: 8 p.m.
Where: Eldred Black Box
How Much: $5
Saturday April 28
What: Springfest 2012. This years' Springfest will feature a musical appearance by Tyga, supported by Stations, Radical Moderation, and Bacon on Top. The event is open to all comers, and there is bound to be an endless array of food and attractions. For an entirely different Springfest experience, try volunteering!
When: 1 p.m. to 7:30 p.m.
Where: Freiberger Field
How Much: Free!
Saturday April 28
What: A Night of New Theatrical Experiments sponsored by Players Theatre Group. Featuring a devised play directed by Matt Mauer, entitled "Something New," the night will be capped off with solo performances by CWRU students Katie Metzger and Erin Wendell. Tana Marquez will also be presenting a kinesthetic performance of Shakespearian scenes. The event is bound to challenge the limits of conventional theatrical arts.
When: 8 p.m.
Where: Eldred Black Box
How Much: Free!
Monday April 30
What: Art Studio 2012 Spring Semester in Review. CWRU's art department will be displaying student works from their studio art classes. Works in ceramics, textiles, paint, drawing, architecture, enamel, photography, and mixed media will all be presented to the community. The event is open to the public, and will kick off with a reception on Monday from 5 to 7:30 p.m. The gallery will be open all week from 10 a.m. to 5 p.m.
When: 5 p.m.
Where: Art Studio Gallery 2215 Adelbert Road
How Much: Free!
Tuesday May 1
What: Thwing Study Over. Take a break from the drudgery of final papers and chemistry exams to the tune of tons and tons of free food! This year's event will feature edibles from Melt, The Cheesecake Factory, and B-Spot Burgers, with new offerings every half hour. There will be a professor dunk tank and various student organizations giving away free swag.
When: 8 p.m. to midnight
Where: Thwing Student Center
How Much: Free to CWRU students.
Wednesday May 2
What: "Art, Narrative, and Muslim Identity" with Dr. Naif Al-Mutawa. Part of the Northeast Ohio Consortium for Middle East Studies' "New Perspectives on Muslim and Middle Eastern Societies" series, Al-Mutawa will discuss his comic book creation, The 99, a group of superheroes born of an Islamic archetype.
When: 12:30 p.m. (lunch at noon)
Where: The City Club of Cleveland
How Much: $15 members/$25 non members (CWRU students can contact pete.moore@case.edu for free tickets)
Friday May 4
What: Marvel's "The Avengers". Directed by Joss Whedon and starring everyone. "Earth's Mightiest Heroes" come to the big screen. The culmination of several movie franchises beginning with 2008's Iron Man and moving through Thor and Captain America, Marvel Studios now brings a star-studded cast together to face a threat that only these heroes combined can defeat.
When: Check your local listings (midnight showings available late Thursday)
Where: A theater near you…
How Much: approx. $6.75 – $18.00 (depending what time you go and if you choose 3D, IMAX, etc.)