"2020 (hindsight)": A virtual play about despair and hope in this year to remember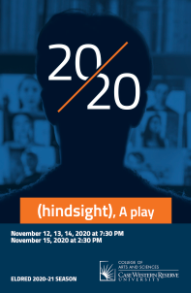 This year has been a rough one. While there have been glimmers of hope along the way, it is evident that our lives have changed for the worse over the past year as we have been deprived of some of the most basic human experiences. Social interaction, the base of human culture, is now taboo, hundreds of thousands have died and millions more have lost jobs in a recession, with no relief in sight. That—along with a heightened sense of racial injustice and civil unrest—has created one of the most consequential years in our lifetimes, one that will likely be defining for a whole generation of Americans now growing up as they shape their worldviews.
As this year winds down and a semester of Zoom University comes to a close, the Case Western Reserve University Department of Theater is looking back and reflecting, with a little help from CWRU students and Zoom. For stage performers, an existential question in the age of COVID-19 is how you can, well, perform when being a part of the intimate environment of a theater puts everyone involved at risk. And with CWRU students spread around the nation and the globe, coming together for a stage production is not really a feasible scenario. As such, the virtual production known as "2020 (hindsight)" took form, using student experiences as a guide.
With four performances on Nov. 12-15, the virtual, one-act play consisted of a quilt of student perspectives on the year 2020 through monologues, dialogues, poems, skits and dances. Through September, the theater department asked for any and all CWRU students to submit short autobiographical pieces about their mindsets and experiences, mostly relating to the COVID-19 pandemic, but also in relation to Black Lives Matter and other culturally relevant issues. From there, 17 pieces from 12 writers were chosen, with some writers performing their own pieces, while others having a separate performer.
Coming into the play, I found myself in a waiting room with instructions to mute myself, turn off my video, turn off the option to see non-video participants and to set my view mode to "gallery" in order to facilitate the pieces with multiple ensemble members. From the beginning, Zoom pervaded the entire experience, and the performers knew that. The production used every Zoom trick in the book in order to pull off a cohesive work. Framed as a series of vignettes, each piece had a polaroid picture introducing it with radio static transitioning between each scene, with screen shares and sharing of computer audio facilitating the transitions. Within the scenes, actors sat in their Zoom windows, removing any sense of blocking really possible for the most part, but not much can be done in that regard. Pieces ranged from rants at God, to soliloquies about the prom that was never to be, to an interpretive dance and poem about the need for social justice.
Though one would think that hearing about 2020 would be tiring at this point, especially a whole 70 minutes worth of hearing about it, each piece struck differently and showed the shared trials and tribulations we have had to face, along with other unique struggles that are not often brought to light on a college campus. One piece that stood out to me was a dialogue between two stars, with the two actors setting their Zoom backgrounds to be pictures of stars in space, where they discussed how despite everything, life goes on and humans will always have a sense of wonder. Indeed, life does go on. We adapt, we struggle and we persevere. Throughout, I was reminded of the resilience of the human spirit, how throughout everything we are willing to reflect on what was lost and still move forward.
This resilience can be seen in the very production that I watched. Though everything seemed to proceed smoothly to me as an audience member in my Sunday matinee performance, there apparently was a plethora of tech glitches along the way. This was actually the first time the cast was able to see each other perform as the breakout rooms that ensemble members would stay in between scenes weren't working.
Stage Manager Monica Hammil faced a whole host of issues herself, saying, "I just want to give a shoutout to cell phone hotspots because it really saved us there at the end." Indeed, many production members were faced with Wi-Fi outages throughout the performance, including for Hammil and Assistant Stage Manager Angela Howell, who said "I didn't imagine that we would have to use all our contingencies simultaneously in one performance." Additionally, doing a matinee also changed the lighting conditions in everyone's rooms, meaning new adjustment-making for a show that fit the nature of this grueling year.
Writer and performer Ellianna Wade, who wrote and choreographed the piece "If You Knew," mentioned that being a part of the play was "cathartic," but was quick to add, "It might have also been slightly traumatizing to constantly relive that and put yourself in such a vulnerable state because these are true stories and we are not playing characters. We are being our authentic selves."
Professor Beth McGee, the director of the production, commented in a post-show question-and-answer period on the difficulty of a show of this nature, saying "I didn't have set expectations because I didn't know how it was going to go. I have in the past have had students write their own productions and present them but we've never had to do it electronically."
Despite those challenges, she was amazed by how it all came together, saying "This show surpassed my wildest dreams as far as the students' ability to write meaningful essays and perform them, as well as the way we learned how to use technology to present it in the best way we could. My imagination did not get to where this show went and I'm very grateful for that."