"Phineas and Ferb the Movie: Candace Against the Universe" is a blast from the past
Streaming recommendation of the week 9/11/20
It's been five years since the Disney Channel show "Phineas and Ferb" went off the air. Five long years. The show, which ran from 2007 to 2015, was a childhood favorite of many in our generation, largely because of its easy appeal and fun premise. Centered on a group of friends on summer break whose creative and wacky hijinks, which were peppered with fun montages and songs, were led by step-brothers, Phineas and Ferb, the show was incredibly consistent yet wildly diverse in its scenarios. Oh, and there's a pet platypus that also happens to be a secret agent. 
Combined, these elements are a winning formula.
The show repeats a few key tropes each episode: something giving Phineas an idea for a new dangerous construction project, after which he says "Ferb, I know what we're gonna to do today," Perry the Platypus slipping away to become a secret agent and fighting the evil yet lovable Dr. Doofenshmirtz and his "-inator" contraptions, Candace, the boys' older sister, devoting her day to busting Phineas and Ferb for their wild projects, the project inevitably disintegrating due to some after-effect of the fight between Perry and Doofenshmirtz right before the parents arrive and at least one musical sequence. 
Yet, despite sticking to the seemingly restrictive template each episode, the show never felt monotonous, with the gang of friends going through all the stages of creating a one-hit-wonder in one episode, travelling through a "The Wizard of Oz" parody in another and travelling back in time to fight an evil sorcerer in another. Through it all, the show remained a testament to friendship, the power of creativity and family.
The finale, "The Last Day of Summer," aired in June of 2015, giving the show a definitive ending, but with the creation of the new streaming service, Disney Plus, and the need to fill it with new content, a reunion became possible in the form of a movie, "Candace Against the Universe." Set chronologically before the finale, the movie reunites the original cast of voice actors who all return to play their roles, with the exception of the soft-spoken Ferb, who is now played by David Errigo Jr. The original creators of the show, Dan Povenmire and Jeff "Swampy" Marsh, also return to construct a story that feels as classic as any "Phineas and Ferb" episode, while also bringing depth to the characters impossible in a typical 22 minute runtime.
Centered around the titular older sister Candace (Ashley Tisdale), the film explores her contentious relationship with her brothers and her drive to keep "busting" them, delving slightly into her own self esteem issues and need to feel special. Out of the sky, aliens proclaim Candace to be indeed special, with her being the "Chosen One" of a planet that lacks her brothers. But as usual, the aliens have more nefarious intentions than they're letting on, so Phineas (Vincent Martella), Ferb and friends Isabella (Alyson Stoner), Baljeet (Maulik Pancholy) and Buford (Bobby Gaylor) must team up with Dr. Doofenshmirtz (Povenmire) in order to give chase and show Candice her value to them.The film fits all the obligatory "Phineas and Ferb" tropes while adding numerous other smart gags, self-aware humor, fun setpieces, fourth wall breaks and a number of great songs, including an ironic song for the "Unsung Hero" that is Perry the Platypus and a "Battle Song" that is actually subterfuge by lying about being subterfuge in another way. All these factors combine to make a fun, smart and endearing reunion for the beloved series. 
"Phineas and Ferb the Movie: Candace Against the Universe" is available on Disney Plus, along with the original series.
About the Contributor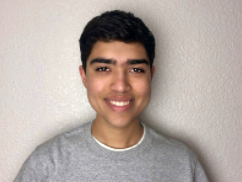 Shreyas Banerjee, A&E Editor
Shreyas is a second-year student majoring in biology and philosophy. He really likes movies, video games, TV shows, comic books, sci-fi/fantasy novels...