5 shops where you can celebrate Record Store Day
Record Store Day is a special day of the year where local record stores have specials, sales and cool events to celebrate the local sale of records, CDs and the like. The date this year is April 18, which gives you just enough time to mark your calendars to come out to one of these five great Cleveland shops and explore the world of high quality, sometimes rare and physical music storage. (Have you ever listened to a song on vinyl? It sounds amazing.)
My Mind's Eye: 16010 Detroit Ave, Lakewood
On Record Store Day, My Mind's Eye will have sales on all CDs (besides new releases) and sales on some vinyl, grab bags and giveaways. On your way out you can get a donut from a donut stand.
There will be DJs playing from open to close. Starting with the opening of the store at 8 a.m., DJ Total Business from WCSB (Cleveland State's radio station) will get the day rolling. Following him is Mitch Capka, who was one of the first hard rock DJs in Cleveland and started in the 70s. Hundreds of people usually just come to see him spinning. Capka will be on from 10 a.m.-3 p.m., and he will "try to replicate his show called 'Kick Out the Jams,'" which was an all-vinyl show. Mitch promises "total-kickassness" (which is patent pending). Then there will be some mystery DJs.
Music Saves: 15801 Waterloo Road, Cleveland
Music Saves will be opening at 8 a.m. on Record Store Day and will have goodie bags for the first 50 or so customers. The selection that they will have for that day will be updated on the website as they get the music in.
A Separate Reality: 2678 W 14th St., Cleveland
A Separate Reality, Ohio's largest vinyl record store, will have some great Record Store Day LPs and 45s in stock. They will also have an in-store performance by a great band out of Detroit called "Blaire Alise & The Bombshells." The hours of operation are 11 a.m.-8 p.m.
Loop-Tremont: 2180 W 11th St., Cleveland
Loop has a coffee shop on the first floor and a record store on the second floor. This year Charles Hill, Jr. will play a couple of sets of country music. There will be free coffee with limited Record Store Day purchases, and there will be a bigger store selection for the day. There will also be sales, but they will decide those when they get all the shipments in.
The Exchange on Coventry: 1836 Coventry Rd., Cleveland Heights
The Exchange will have a bigger selection on Record Store Day; there is a special collection catalog that drops on that day. Also there are some special used vinyl that they set aside for this day and will finally be available for sale.
Leave a Comment
About the Writer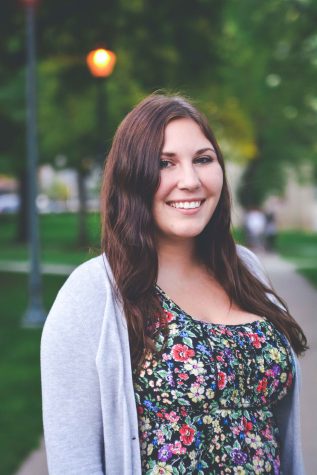 Alex Clarke, Arts & Entertainment Editor
Alex Clarke is a senior with majors in english and psychology and a minor in marketing. She also writes for Trill Mag, wrote for McClatchy newspapers for...