A Case of Grades
Stats show median assigned grade has remained unchanged in recent years, no sign of grade inflation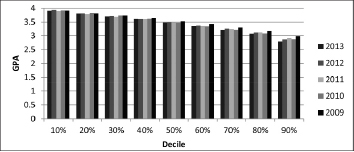 Across the Case Western Reserve University campus, there is a general feeling of difficulty from the student body. Low exam averages, students bombarding Kelvin Smith Library and stress are nothing new.
In recent months, several universities took a closer look at their grading credentials after reports surfaced that several prestigious universities had median grades in the A-range.
In an article by The Crimson, Harvard College's daily newspaper, the school's dean of undergraduate education reported that the median grade at Harvard was an A-, and that an A is the most frequently awarded mark. The paper also reported that the Harvard faculty and administration are currently undergoing a movement in an effort to take a serious look at their grade inflation problem.
On the other end of the spectrum, Princeton University is also undergoing procedures to change its grading policy. Since the Fall of 2014, Princeton's grading standard is that A's should not account for more than 35 percent of the grades in their undergraduate courses. The Office of the Dean of the College reports that as of October 2013, Princeton's President Eisgruber has called upon a new faculty committee to review the effectiveness and parameters of its grading policies.
So some universities look like they are inflating their grades while others are trying to make sure that doesn't happen. Where does CWRU fit into the picture?
In short, according to the Vice Provost of Undergraduate Education Donald L. Feke, the median grade point average at CWRU, at least for seniors graduating with a bachelors degree, hasn't changed much over the past five years, sitting somewhere between an A and B.
According to data Feke provided, the median GPA for CWRU seniors graduating with a bachelors degree in 2013 was a 3.483; 2012's was 3.496; 2011, 3.484; 2010, 3.480; and 2009, 3.534. He says it's crucial to look at the median, not the average GPA, since a minimum 2.00 is needed to remain in good academic standing.
It's important to note that these stats are just for seniors. Feke says that the average GPA for all students is a 3.31, and that GPA's tend to rise as students progress towards their degrees.
Feke is interested in examining how the median GPA changes over the next few years with "academic credentials of the classes being recruited to CWRU" on the rise.
"One might expect that the GPA will likewise go up," Feke said.
Dean of Undergraduate Studies Jeffrey Wolcowitz noted that no one has raised the issue of our grading standard since he's been here, which was over seven years ago.
"What's important to me is that the community be comfortable with the grading standards being applied," Wolcowitz said. "Our grades have been remarkably consistent over the past several years, and grading standards have not come up as a matter of concern."