A conversation with Colin Quinn
"One In Every Crowd" comes to Cleveland
On Thursday, Feb. 1, Colin Quinn's new stand-up tour is stopping in Cleveland for a night at Hilarities. Known for his work on many projects, Quinn was a cast member on Saturday Night Live (SNL) in the 1990s and has had many successful off-Broadway and Broadway one-man shows—the most recent of which was "Colin Quinn: The New York Story," directed by Jerry Seinfeld and now a Netflix comedy special.
In a recent phone interview, Quinn shared more about the show and touring the United States.
Q: This is your first stand-up tour in seven years. What made you decide to do this again?
A: Well, I was doing these one-man shows, and in some way, stand-up is easier. You don't have to keep to a theme. I've spent my whole life doing stand-up, and I just like to play around. It's turning into a one-man show anyways, so I don't know why I'm acting like I'm doing something different. But that was the idea.
Q: Of the one-man shows you've done, which would you say has been your favorite
A: The last one was my most autobiographical, so I kind of loved doing that—just talking about how New York was back in the day when I was growing up.
Q: Other than "The New York Story?"
A: I would say the unconstitutional one. It was about the United States and how we're kind of breaking up.
Q: But that was back in 2013. You must have seen the signs pretty early.
A: Yeah I could kind of see that we weren't all on the same page.
Q: Do you think being a comedian helped with that?
A: Maybe because we're always going to different places and thinking about that kind of thing, yeah. We have more free time on our hands, probably.
Q: You're traveling the country right now on tour. Do you see any of that reflected in the different audiences you're meeting?
A: I definitely see that people very reserved when it comes down to politics. When you talked about it in the old days, people were like "Yeah, we're here to laugh." Now they're like "we know what you're saying, but we're going to draw the line." It's like the calm before the storm.
Q: Does that make it harder to make them laugh?
A: A little bit, but not really. It's different, not harder. You have to be very specific—very clear—about what you're trying to get across. When people see that you're trying to lecture them, they start to shrink back. People are sick of being lectured.
Q: You've been on TV—"SNL" and "Girls" to say the least—and you've also been in films. If you had to choose between that and stand up, which would you choose?
A: I would choose "The New York Story" type stuff. Then I'm able to not only do my own writing but also to make the points I'm trying to make—whatever they are. Writing is the thing I would miss the most out of all of it. When I go without performing for a while, it doesn't kill me as much as it would to do the same with writing.
Q: Why "One in Every Crowd?"
A: In every situation right now—whatever job you're in, whatever school you go to, whatever class you're in—there is one person that is almost genetically programmed to ruin the vibe. That's just who they are, and it's been like that since I was born. I'm just trying to explore who they are, and why that exists.
Q: How does the show reflect that?
A: I go over the list of behaviors that those idiots do, and how they infuriate me on each level.
Leave a Comment
About the Writer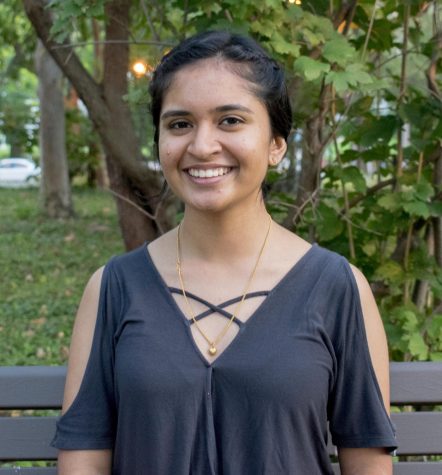 Smruthi Maganti, Arts and Entertainment Editor
Smruthi Maganti is a third-year student studying biology with a minor in public policy. After a year of copy editing, this is her first year as the A&E...