A mother's influence
Second-year volleyball player gets love of competition from mom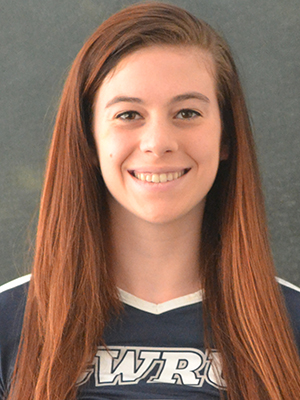 Jana Giaquinto is a second-year volleyball player who plays primarily right side hitter. Her mother got her involved from a very young age as she too was a volleyball player in college. Gianquinto thrives on competition and always drives to be the best that she can.
What is your favorite part of being on the volleyball team? Why?
My favorite part of being on the team is the feeling of competition. The feeling of competing with other teams and among each other helps me to push myself to be the best player I can be.
Where did you get your passion for volleyball? Any good stories?
I get my passion for volleyball from my mother who introduced me [to the sport] at a very young age. She played in college at University of North Carolina Asheville, and she coached volleyball before I started playing. My passion started when I went to one of her games when I was in third grade; before that I had no interest in playing at all, and she had to basically force me to come. However, after I watched that match I thought it would be fun and have been playing ever since.   
Do you have any matches that you remember being particularly special? Why?
One of the most special matches I have been apart of was when I was 15. It was the quarter final match for the [Amateur Athletic Union] AAU national tournament. We were playing the team that was favored to win the entire tournament. My team…played flawlessly and ended up winning to move on to the next round. It was the most exciting match I've ever been apart of, and the most amazing volleyball I've ever seen.
Why are you majoring in biochemistry? What interests you about it?
I am majoring in biochemistry because all of the interconnecting systems and reactions in the body really interest me. It is like a million tiny puzzles that are all pieces in one gigantic puzzle that is waiting to be solved.
What are your favorite free time activities?
One of my things to do in my free time is a late night Swensons run with my friends or boyfriend. I also enjoy naps and watching movies.