A quirky kind of Christmas
Sia offers a fresh set of Christmas tracks
It seems like everyone is making Christmas music lately, from Gwen Stefani to Miley Cyrus to DMX (please listen to DMX's recently released "Rudolph the Rednose Reindeer," you won't regret it). Sia joined the ranks with her first Christmas album, "Everyday is Christmas," released Nov. 17. Why should she not release a Christmas album? Her voice is unique and striking, so at least among what seems to be a thousand covers of "Last Christmas," Sia would stand out. Thankfully, Sia takes it a step further and crafts all of her own Christmas songs. While none of the songs have the familiarity and nostalgia factor of canonical Christmas tunes, Sia's new Christmas album is fresh and quirky.
The entire album feels like Sia is doing a Christmas music set with a band accompaniment. The music behind her vocals is pretty basic: usually just drum set, bells (of course), piano and some backup vocals. It does not feel overproduced or overwhelming, with the focus on Sia's vocals—as it should—because Sia has vocals unlike any other musician in popular music right now.
The songs thankfully do not fall into the overdone tropes of Christmas music, like love and how that relates to Christmas. The most unique on the album, lyric-wise, is probably "Sunshine," which is an uplifting song that places Sia as Santa's helper bringing happiness: "I'm Santa's helper, give your fears to me/ I'll take them home, baby/ And return them as sunshine."
Another strong track is "Puppies Are Forever," where Sia talks about how puppies are considered gifts but are living, loving creatures. Sia sings, "Puppies are forever, not just for Christmas." I am grateful that Sia's creative mind wrote a song about the other issues involved in Christmas, and while musically the song is kind of annoying, the message is gratifying.
Sia can't be blamed, however, for still writing Christmas love songs, though she does save that for the end of the album. "Underneath The Mistletoe" is the less stereotypical of the two. The chorus goes: "A snowy night, a woman on fire/ I'm waiting for ya/ So, here we go under the mistletoe." Another Christmas love song is "Everyday is Christmas," and it is more typical of other love songs.
I have three favorite songs on the album. First is "Santa's Coming For Us," which is a jazzy, swing take on "Santa's Comin' To Town" (without the creepy part about Santa watching children sleep.) Second is "Ho Ho Ho," which feels whimsical and is about boozing on Christmas. Lastly, "Under the Christmas Lights" is a haunting stripped-down track that feels similar to "Holy Night."
There are songs on the album that are duds, including "Snowman," "Snowflake" and "Sunshine." These still have the unique take in the lyrics, but musically they are not catchy or that interesting to listen to outside of listening to the entire album. Lyrics are not enough to make a song a favorite, and these songs fail in that regard.
Sia is a creative powerhouse with a long artistic history of performing and songwriting. She stands out from other pop music, and her contribution to the body of Christmas albums is nothing different. "Everyday is Christmas" shows Sia lighter than most of her other work, but she uses what she has been gifted to deliver a unique take on the holiday everyone loves to sing about.
Like a lot of her music, she has a few standout tracks, but others just won't make it off the album and onto your favorite Christmas playlist.
Album: "Everyday is Christmas"
Release: Nov. 17
Artist: Sia
Rating: 3.25/5
About the Writer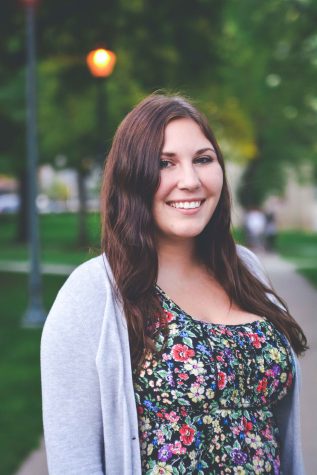 Alex Clarke, Arts & Entertainment Editor
Alex Clarke is a senior with majors in english and psychology and a minor in marketing. She also writes for Trill Mag, wrote for McClatchy newspapers for...