A solid comeback for the queen of country pop
After 15 years of radio silence, the highest selling female artist in country music history Shania Twain has finally returned with the release of "Now." During her 15 year hiatus, she fought against Lyme disease, which caused her to suffer from dysphonia, a vocal cord disorder that makes the voice raspy and hoarse. She also divorced her husband Robert John "Mutt" Lange, who produced and co-wrote her three blockbuster albums, "The Woman in Me" (1995), "Come On Over" (1997) and "Up" (2002).
Because of these changes, "Now" has a much different character from her earlier albums, and much of the album is missing some of the brightness of early work. Two big changes define the album: All of the songs are solely written by Twain, unlike her previous albums that were co-written by Lange, and Twain employs a variety of different people behind the boards instead of having one producer in charge of the whole album. The change in production style causes the album to jump around a bit sonically, but the record's upbeat feel remains consistent with Twain's songwriting prowess, with a couple of ballads thrown in to add variety.
Highlights include the track "Poor Me," which features a great guitar riff complemented by electronic drums and Twain's multi-tracked vocals. With the nice play on words of Twain's self-pitying "poor me" turning into "pour me another," the chorus, although a bit overcrowded, is made for adult alternative radio, with plenty of synths filling out the sound.
The opening track, "Swingin' with My Eyes Closed," shows Twain's genre-bending persona in full force. The song starts off with a country guitar lick before moving to a reggae-influenced verse. The chorus is a bombastic declaration of happiness and hope for the future. "Life's About to Get Good" is another track that celebrates her return from the darkness with a happy, upbeat sound. The track features modern electronic flourishes, mixed with country banjo and guitar, and another huge chorus.
Overall "Now" feels slightly over polished and fussy, which is understandable due to the massive pressure Twain was under to make a triumphant comeback. Tracks such as  "Let's Kiss and Makeup" try a bit too hard to appeal to modern sensibilities.  However, Twain's new raspier voice fits many of these songs well, and there are enough solid hooks and unusual genre combinations to make "Now" a solid addition to Twain's discography.
Album: "Now"
Artist: Shania Twain
Release: Sept. 29
Rating: 3 out of 5
Leave a Comment
About the Writer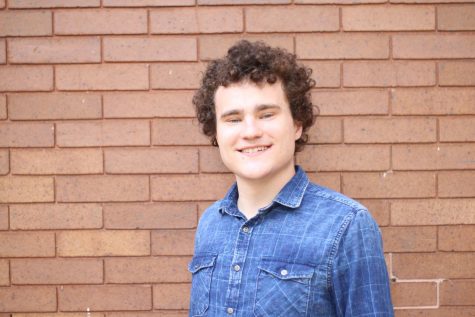 Matt Hooke, Executive Editor
Matt Hooke, The Observer's executive editor, is a fourth-year student studying English. This is his first year as executive editor after spending time...