"The Addams Family" is dark and engaging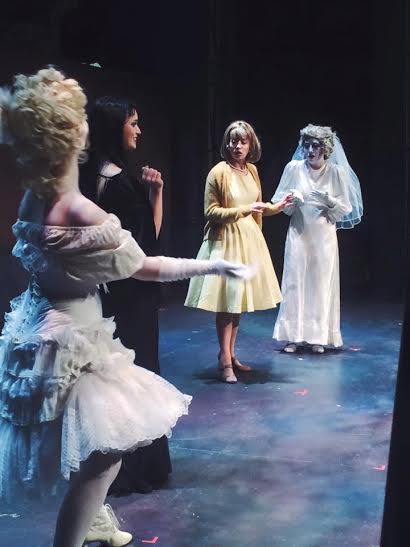 Although "The Addams Family" is not pitch perfect, it does manage to be hilarious while showcasing bizarre characters and macabre musical numbers.
The musical centers on the darkly eccentric Addams Family, which consists of suave Gomez (Brett DiCello), enchanting Morticia (Bridgette Garb), Gomez's crazy brother Fester (Bradley Odhner), the young Wednesday (Bessie Bulman) and Pugsley (Brittany Stern), the ancient and insane Grandma Addams (Natalie El Dabh) and their towering servant, Lurch (Oliver Ruhl).
The musical begins after Wednesday falls in love with an average boy from Ohio, Lucas Beineke (Zachary Palumbo). Their relationship disappoints Gomez, who is forced to keep the relationship between Lucas and Wednesday a secret in order to avoid an embarrassing confrontation with Morticia. It is this secret that leads to dire, ridiculous consequences for both the Addams and Beineke families, which includes the no-nonsense Beineke patriarch, Mal (Evan Bramberg), and his aloof wife, Alice (Sara Bogomolny). From there the plot takes many turns as both families clash on the way to a comedic climax.
Most of the performances in both families are spot on, although Lurch, Wednesday, Fester and Gomez shined brighter than the others. DiCello's performance as Gomez was full of intensity and manic energy, with a strong accent and vocals to boot. Lurch was fantastic despite being limited to grunts, as each one was more effective and funnier than the last. The repeated appearance of Fester and his team of Addams Ancestors (Bradley Krapes, Paige Yepko, Sun-Mee Kasper and Matt Thompson) was entertaining, and the over-the-top performances kept their appearance from feeling repetitive. Bulman's Wednesday was also excellent in both dramatic portrayal and vocals
There were some slight setbacks in the musical, including a rather rocky start with its opening number ("When You're An Addams"), but it finally found its footing with Wednesday's song about finding the one ("Pulled"). There were also some underdeveloped aspects to the musical, specifically the subplots about Pugsley's interference in Wednesday's relationship and about Fester's love for the moon. I would put this more at fault for the original musical version and not on the Eldred production, however.
Audience member and first-year student Beca Dennis enjoyed the production, specifically how "amazing and spot-on the character of Wednesday was played, especially the overall demeanor and face of the character acting."
Overall there were some rocky moments in the opening numbers, and some performers did their best with the limited material they were given. Despite musical shortcomings in plot and character development (especially of the Beineke family), "The Addams Family" still manages to hit more often than it misses with an adequate set, good costumes and mostly terrific performances complemented by several good musical numbers.
Production: "The Addams Family"
Directed By: Jerrold Scott
Musical Direction: Brad Wyner
Performance Dates: Nov. 13-14 and 20-21 at 7:30 p.m., Nov. 15 and 22 at 3 p.m.
Rating: ★★★★☆
Leave a Comment