African American Society honors deceased high school athlete with scholarship
Michael Chappman never had the chance to go to college.
The 17-year-old football player from John Hay High School was randomly shot during a drive-by shooting in July, and later succumbed to his injuries. Now the Michael Chappman Scholarship could help others achieve what he could not.
The African American Society (AAS) at Case Western Reserve University introduced the scholarship Saturday night at their 44th annual Ebony Ball. The ball celebrates African-American culture and achievement, and fundraises for the society's university scholarship. Members of the Black Student Union of Cleveland State University and John Carroll University attended the event.
Thirty members of Chappman's family, including Chappman's mother Neicey Bryant, attended the ball.
Bryant brought a board to the ball, with Michael's football picture, the date he passed away and a quote that read, "When someone you love becomes a memory, your memory becomes a treasure."
"[Bryant] wasn't cooking for Thanksgiving because she was so down about Michael not being there and it being the first Thanksgiving without him," said Arik Stewart, the president of the African American Society. "She got up and started cooking that day when she found out [about the scholarship]. She was just so happy."
According to Stewart, the scholarship is meant for Cleveland Metropolitan School District graduating seniors. It will be awarded every spring, similarly to the usual university scholarship that the AAS awards to CWRU students who are a part of their organization. He hopes to start the new scholarship at $1,000 and increase the amount through fundraising.
Stewart heard of Chappman's death through AAS Vice President Johnathan Hicks. Initially, Chappman's shooting was reported by the local news, but at that time doctors thought he was recovering from his wounds.
Stewart, who played on the same football team as Chappman's brother Tyrese, said Chappman passed away from his injuries two days after the news coverage about the hospital stay. A bullet that was lodged inside of his body moved, causing internal bleeding.
"You hear about it so often it ends up drowning out," said Munya Radzi, secretary of AAS. "You think it's just a part of life. You think it won't happen to you so it ends up phasing out of your head, but when you sit down and actually think about it you think of the very real dangers that are out there."  
Stewart said that he hopes the scholarship will spread awareness at CWRU. He remembered that his high school, Whitney M. Young Gifted & Talented Leadership Academy, did not receive any CWRU representatives despite being a magnet for top performing students in the Cleveland Metropolitan School District.The Chappman scholarship is available to high school students regardless of their choice of school.
Said Stewart, "We just want to support seniors who have the same type of future that Michael Chappman had, which was a bright one."
About the Writer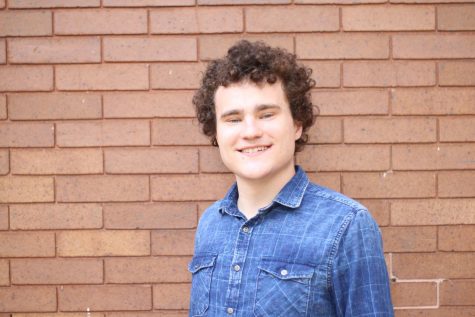 Matt Hooke, Executive Editor
Matt Hooke, The Observer's executive editor, is a fourth-year student studying English. This is his first year as executive editor after spending time...