"Agent Carter" proves Marvel isn't limited to Netflix
The success of the gritty "Daredevil" and the even darker "Jessica Jones" has people talking about Marvel's foray into television. Lest we not forget the two shows that started the trend, "Agents of S.H.I.E.L.D," currently in the middle of its third season and "Agent Carter," which premiered the first two episodes of its second season Jan. 19. In this review, I'll focus on the latter.
Hayley Atwell returns in the titular role as Strategic Scientific Reserve (SSR) Agent Peggy Carter, who is now fighting both crime and sexism in sunny 1940s Los Angeles, getting away from the drab New York skyscape. The producers do an excellent job setting the scene, as they use real footage from post-war LA. Carter's trusted sidekick, and fellow Brit, Edwin Jarvis (James D'Arcy) is also along for the ride, and the chemistry between the two characters, developed nicely throughout season one, burns strongly at the start of the new season. This is epitomized in the conversation between Jarvis and Peggy on a drive from the airport. D'Arcy plays well as the comic relief in the otherwise serious spy series by making witty comments and fighting a flamingo, though only one of those activities will probably continue.
After finally capturing the communist spy, Dottie Underwood (Bridget Regan), Peggy promptly flies to LA as Agent Daniel Sousa (Enver Gjokaj) requires help while setting up the West Coast branch of the SSR. A dead woman's body with the marks of a famous serial killer is found frozen solid in an icy lake on the hottest day of the year. Local detective Andrew Henry (Sean O'Bryan) wants to get back on the serial killer's cold case, but Peggy and Daniel are more intrigued by the ice.
In the course of the investigation they meet new characters who will have recurring roles in season two. Self-proclaimed genius Dr. Jason Wilkes (Reggie Austin), a scientist at Isodyne Industries, a company with ties to the dead woman, serves as Peggy's love interest. Austin performs well in that role as he and Atwell develop a nice chemistry throughout the second episode, though he can do better portraying his struggles as an African-American in the post-war era. The writers and producers are definitely going to show more of the struggles throughout the season, so that should work to his advantage.
Peggy and Jarvis seek out Isodyne founder Calvin Chadwick (Currie Graham) and his wife, actress Whitney Frost (Wynn Everett), the antagonists for the remainder of the season. As it turns out, Frost and Chadwick have developed a new compound, zero matter, much more powerful than atomic energy. In conjunction with the show's feminist message, Frost is harshly put-down at work, but she also appears to be the inventor of zero matter and is a force to be reckoned with.
The audience meets other new characters, including Edwin's wife and and Peggy's confidant Ana Jarvis (Lotte Verbeek) and Daniel's girlfriend Violet (Sarah Bolger). Peggy makes fast friends with both Violet and Ana and their relationships will be something to watch this season.
Noticeably absent from most of the first two episodes were fight scenes. There was a well-choreographed one between Peggy and Dottie at the beginning of episode one and then not another fight until five minutes from the end of episode two, when Peggy easily dispatches five Isodyne henchmen. Hopefully there are more fight scenes, as they showcase Peggy's strength as an agent, a key component of the series.
Title: "Agent Carter"
Air time: 9 p.m. Tuesdays
Network: ABC
Rating: ★★★★½
Leave a Comment
About the Contributor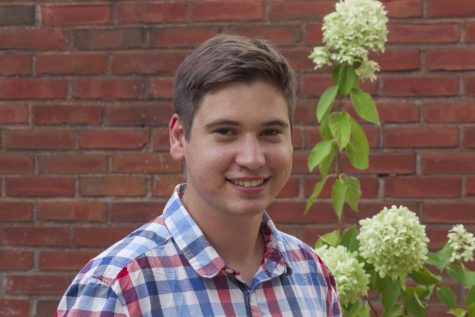 Eddie Kerekes, Executive Editor
Eddie Kerekes is in his fourth year studying chemical engineering while also pursuing a minor in German. He serves as the executive editor. Previous roles...